Dugout at Connie Mack.jpg
Raymond E. Kelly

---AKA Ray Kelly

Born: December 6, 1913, Philadelphia, PA

Died: November 22, 1988, Philadelphia, PA, age 74,--d. heart attack at home, died at Nazareth Hospital, Philadelphia, PA. Cremated.

Philadelphia sports writer;

Philadelphia, PA, 6-year old, (January 7, 1920 census)

Philadelphia Evening Bulletin, copy boy/minor sports, 1929 - 1941

World War II enlisted U.S. Navy and served in the Pacific, where he operated an island newspaper.

Philadelphia Evening Bulletin, beat writer for the PHil. A's, 1946 - 1954, then for the Philles, 1954 - 1979

Philadelphia local papers, 1979 - 1988

Father: Frank E.., born Pennsylvania 1875?; Mother: Elizabeth Coughlin., born Pennsylvania, 1879?.

Ray Kelly and Bob Hunter were the recipients of the 1988 J.G. Taylor Spink Award.

Ray Kelly was a newspaperman for fifty years. He began as a copy boy in 1929 at the age of 15 with the Philadelphia Evening Bulletin—having left school as a seventh grader during the depression. An obvious aptitude for the profession eventually led to his being assigned to cover minor sports but it was not until his return from the U.S. Army following World War II that he became a baseball beat writer—first for the Athletics until their departure from Philadelphia and then for the Phillies—until his retirement in 1979. He continued to work for various local papers until his death on November 22, 1988.

Kelly was an outstanding soccer player during the 1930s and 40's and one of his assignments for the Bulletin was to cover a semi-pro championship soccer match in which (unknown to the newspaper) he was also a participant. He ended up scoring the winning goal, but to protect his job with the paper, he attributed the score to a teammate in his game story the next day. He was a star player on three championship teams in the local professional league and was elected to the Hall of Fame of the Old Timers Soccer organization.

Kelly was past-president of both the Philadelphia and national chapters of the Baseball Writers' Association of America.

He and his son Ray "Buzzy" Kelly of the Camden Courier-Post (1964-1981) became the first father and son to cover a major league team for competing newspapers.
Sporting News' obituary, December 12, 1988, pp. 58.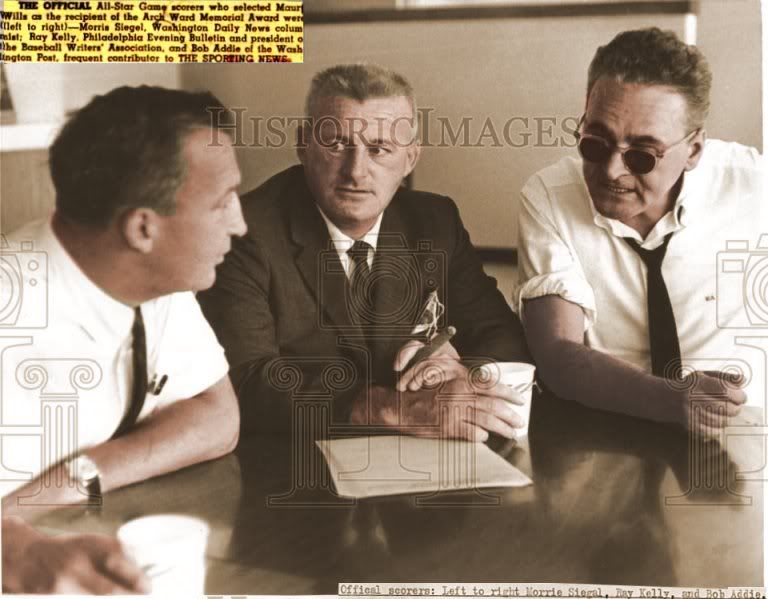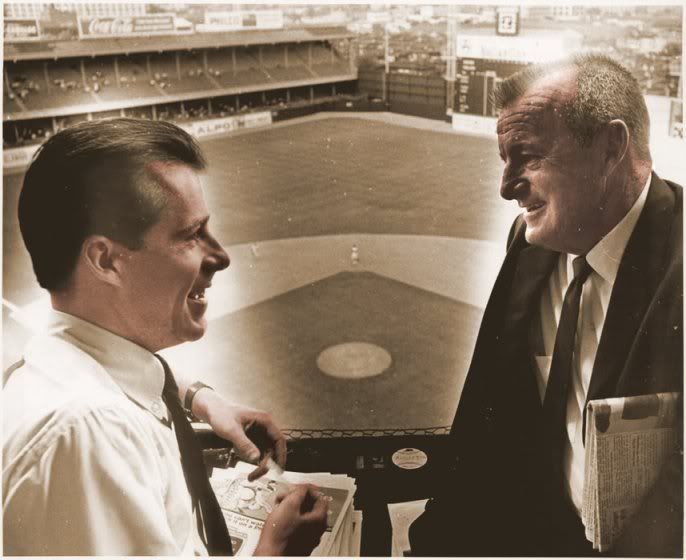 1962, All-Star Game:

Morris Siegel

,

Ray Kelly

,

Bob Addie

.-------------------------------------------------------------------June, 1966: Ray Kelly, Jr. and his father,

Ray Kelly, Sr.