Jays' hopes for success taking nose dive

Aug. 10, 2009
By Danny Knobler
CBSSports.com Senior Writer

NEW YORK
-- Even with Roy Halladay, the Blue Jays aren't going to win next year.
Even with Alex Rios, they weren't going to win next year.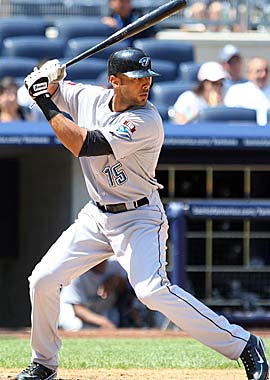 Two-time All-Star Alex Rios is still owed $60 million over five seasons. (Getty Images)
Even with whomever they can get with all the money they saved by letting Alex Rios go to the White Sox, they're not going to win next year.
"Not even close," said one scout who watched the Jays a lot in July.
"They're at least a couple of years away, I think," another said. "I think Baltimore goes by them next year."
That's not good, because Tampa Bay already went by them last year. And the Blue Jays have been behind the Yankees and Red Sox for basically the past decade.
• White Sox pick up Rios off waivers from Jays
The Jays originally saw 2010 as the year they could compete for a playoff spot. Now people are saying they're a lot more likely to finish last than first.
Now, even general manager J.P. Ricciardi isn't saying with any certainty that the Jays can win next year.
"I don't know," Ricciardi said. "That's a good question. One thing we know about this division, you can't be good. You have to be great.
"I can't tell you if we'll have that magical year."
Not all of this is Ricciardi's fault, but it's widely believed that he will be replaced at the end of this season. Someone else will try to put together this team, with a budget that wouldn't cover the cost of the Yankees' starting infield.
Some people have suggested that by shedding Rios' contract (which pays him nearly $60 million over the next five seasons), the Jays could now afford to keep Halladay through next year, or even sign him to an extension.
But does it really make sense to commit $20 million to one starting pitcher, if your entire payroll is going to be around $80 million (and if you're stuck paying center fielder Vernon Wells $23 million in 2011)?
More likely, Ricciardi's successor will trade Halladay this winter and get younger, cheaper pieces. As Ricciardi admitted after the Jays allowed the Rios claim to go through, this team needs to find a catcher and a shortstop, among other things.
The Jays do have some talent. They were good enough to lead the AL East through May 23, good enough that without all the pitching injuries they might have finished .500, good enough that in another division they might have come close to contention.
But they're not in another division. And the pitching didn't stay healthy.
The Jays expect Scott Richmond, Shaun Marcum and Dustin McGowan to come back next year. They expect Casey Janssen back, too, although they're moving him to the bullpen.
"I'm sure with our luck, we'll wait for the next batch to get hurt," Ricciardi said.
Most likely, he'll be elsewhere by then, watching from afar. The next batch of injuries will be someone else's problem, and manager Cito Gaston's problem.
Gaston is 65 years old, but he's signed through next year. And he insists that the outlook for 2010 isn't as bleak as others make it sound.
"If everyone comes back healthy, we've got a great chance," he said. "It's a challenge, but it's no fun without challenges. They get you up in the morning, and they keep you up at night."
Good for him if he believes that, but winning with this Blue Jays team, in this division, is a bigger challenge than winning the World Series in back-to-back years.
Then again, Gaston is the last guy to meet that challenge. Maybe he's up for this one, too.
"Who knows what could happen?" second baseman Aaron Hill said. "We have a great squad. Look what we did in the first month and a half."
Look at what has happened since, as the Blue Jays have gone 26-43 over the past three months. Look at what the Blue Jays have, and compare it to what the Yankees have, and what the Red Sox have, and what the Rays have, and even what the Orioles will have.
Right now, Toronto isn't even close. Next year, with or without Halladay, with or without Rios, they wouldn't be close.
At some point, maybe they will be.
But not in 2010.
Basically, I agree with all of this. Hope the writer is correct about Riccardi's fate! :crossfingers: