Well, I figure it's about time Chicago's south side ballpark got some love here. I know I've written a lot about the current home of the White Sox, so I won't rehash everything. I'll post some pictures of the ballpark both before and after it was renovated. But before I do, I'll go through a rundown of some events that led to New Comiskey Park's funding, construction, and eventual renovation.

First, back in the 80's, Sox owner Jerry Reinsdorf had already bought the team and renovated Old Comiskey Park. He put in suites in the upper deck, "Gold Box Seats" down below, a new exploding scoreboard in center field, as well as other renovations. However, it was costing him more money to renovate the old place than he could afford. So he decided to start waking waves in demamding money to build a new place, or else he would move the team. While he was making these demands, a new domed stadium was being built in St. Petersberg, Florida with the hopes of bringing in a team to that area. I can tell you that if it hadn't been some for string-pulling from local and state politicians, the Chicago White Sox would've moved to Tampa. But more on that later.

As it got closer to that inevitible "doomsday" scenario, both fans and politicians started to act. First, Chicago Mayor Richard Daley approved legislation allowing the new stadium to be built in the city of Chicago instead of suburban Addison, Illinois. Daley told the Sox that he would help the team get the money it needed ONLY if it built the new stadium next to Old Comiskey. Ironically, Mayor Daley actually grew up in the city's "Bridgeport" neighborhood, which is only blocks west of the ballpark. Then, as fans began to assemble for rallies to "Save Our Sox", action took place in Springfield, the state capitol.

Then-governor James Thompson had to act fast because the deadline to secure funds was approaching. Thompson was a Sox fan himself, so he decided to use his clout to force other state politicians who "owed him favors" to approve funding for the new ballpark. He had to "force" the help because many Illinois legislators were either Chicago Cubs or St. Louis Cardinals fans. A few minutes after the midnight deadline passes, the legislation passed, and the White Sox were going to stay in Chicago in a new state-of-the-art ballpark.

In April of 1991, New Comiskey Park opened to the public. Over 44,000 fans filled the new building, but many of them looked across the street to see Old Comiskey Park crumbling down thanks to a wrecking ball. Despite being slaughtered 16-0 by the Detroit Tigers, it was still a monumental occasion in Chicago sports history. New Comiskey was the first sports new facility built in Chicago since Chicago Stadium was put up in the 1920's. It was also the first baseball-only facility to open in the big leagues since Kansas City's Kauffman Stadium. Any praise the new place received was also met with some criticism...mainly because of a steeper-than-usual upper deck, which architects learned was built at 35 degrees. Not to mention, with 2 levels of luxury boxes built between the upper and lower decks, the upper level seats were much further away from the action than local fans were used to. In fact, the Chicago Tribune wrote a story showing the first row of UD seats were actually further away from home plate than the last row of UD seats at Old Comiskey. Still, the Sox would set attendance records with yearly crowds of over 2.9 million fans during the park's first few years. However, the strike of 1994 (many fans to this day believe Jerry Reinsdorf was a key player in that strike despite his own team being in contention to win the World Series that year) and much negative press about the ballpark would help turn the place from a baseball haven to a place to stay away from.

As we all know, in 1992, Oriole Park at Camden Yards opened up. When that happened, any praise New Comiskey Park received instantly turned to criticism. The biggest reasons for the complaints were the steepness of the upper deck, the blandness of the design, and that it didn't face downtown Chicago. It was even being reported that H.O.K., the arcitectural firm that designed both New Comiskey, Oriole Park, and just about every new major and minor league park, presented Reinsdorf with an Oriole Park-style plan for New Comiskey, but he rejected it. He didn't think fans would go for an old-style ballpark. He thought modern was the way to go, and he'd learn soon after that he was wrong. 2 levels of luxury suites and unobstructed views didn't carry the load as much as he thought. Just about every year since '92, a new major or minor league stadium looking like Oriole Park popped up, and New Comiskey Park was becoming further and further obsolete. Attendance was down, the team wasn't playing well, and something had to be done.

In the late 90's, the Sox built the "Bullpen Sports Bar" underneath the right field seats to quell complaints of not having bars and such around the ballpark like there are around Wrigley Field. In 2001, continued to renovate New Comiskey with the addition of new seats along the foul lines and a center field "fan deck" that provided a unique view of action on the field. Then in '02, the White Sox struck a deal with local cell phone carrier U.S. Cellular that would get money to drastically change the look of the ballpark. In 2003, U.S. Cellular Field would open to the fans with praise and optimism, as the ballpark got a much-needed paint job, new L.E.D. ribbonboards were put up on the upper deck facade, a new HD videoboard was installed in center field, and other improvements were made. In subsequent years, the Sox would build a kid-friendly area above the left field seats (FUNdamentals), the club level would be rebuilt from the inside, all the Brooklyn Dodger blue seats (except 2) would be changed to a kelly green (Reinsdorf was a Brooklyn Dodger fan growing up, and that's why he put the blue seats in the new stadium at first), a new "Scout Seats" section was put up behind home plate, and the uppermost seats in the UD being removed and replaced with a new, old Comiskey-style roof.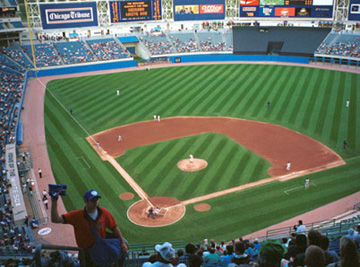 New Comiskey Park shortly after it opened. Note where the bullpen is in left field. That location would change once the park gets its makeover.



New Comiskey Park being built in the shadows of Old Comiskey.



Yankees' pitcher Roger Clemens poses at the Cell during 2003 All Star Game warmups. Note, the "U.S. Cellular Field: 2003 All Star Game" and "Home of the Chicago White Sox" messages painted on the facades between the upper and lower decks. Also, the "circles" you see underneath are pictures of the park's signature "pinwheels" located on the center field videoboard. Also, the underside of the roof was given a coat of black paint. The entire ballpark was painted from a drab white to a darker black, gray, and kelly green motif.



The ballpark's new look with the new roof put up before the 2004 season.



The center field "Fan Deck", intially put up before the 2002 season. It only had 1 level at first, but another was added before the 2004 season. Fans can have private parties on the deck, and it was recently featured on an episode of Food Network's "Dinner Impossible".



The new Pontiac "FUNdamentals" deck in left field. White Sox coaches teach kids in the park how to hit, throw, run, and field like big leaguers.



A look at the ballpark after all the renovations are done. The Sox bullpen is in front of the left field seats, and all the park's seats are kelly green instead of blue. The new roof gives the place a sense of intimacy, and one of the 2 300-feet L.E.D. ribbonboards give the place some color.


Since all the renovations were completed, many people who criticised the ballpark (including me) are singing its praises. Granted, there are things about the place that cannot be changed (i.e., the direction the park is facing, or how high it is off the ground), but considering that White Sox fans in general are more concerned about their team on the field than the field itself, that's fine. U.S. Cellular Field isn't a tourist attraction ballpark like Wrigley Field or Fenway Park. Those places have their own unique histories which baseball fans should celebrate. However, "The Cell" as we fans like to call it has its own young history, too. Remembering events like the 2003 All-Star Game; or dramatic home runs by Bo Jackson in 1993, or Paul Konerko and Scott Podsednik in the 2005 World Series; or Mark Buehrle's no-hitter this past year...those are events that make a ballpark a classic. Not to mention, after Oriole Park's opening, so many new places are looking like Oriole Park that there's hardly anything unique about modern baseball stadiums anymore. They almost look exactly alike from the outside...red brick facades with dark greet seats...you know the drill. Still, while it doesn't please everyone, U.S. Cellular Field will be one of those places that years from now, people will celebrate more than now. There are only so many Oriole Park-style stadia that can be built, and new places like Petco Park in San Diego, Great American Ballpark in Cincinnati, and the new ballpark in Washington D.C. are already breaking that trend. Just look at the home plate facades of just about every new stadium since 1992, and then look at the Cell's. Other than PNC Park in Pittsburgh and the others I mentioned, just about all the home plate designs are almost exactly alike.

Many ballpark enthusiasts are crediting Oriole Park for a modern ballpark building boom. It deserves due credit, but places are starting to emulate some of the Cell's attributes. Many writers across the country are suggesting their ballparks have a "Fundamentals style" area where kids can learn the game. Miller Park in Milwaukee has a field-level bar inright field where people can watch games and socialize. L.E.D. ribbonboards are almost a norm in ballparks, and fireworks after home runs was a White Sox staple for decades. In other words, while prasing Oriole Park, don't forget...U.S. Cellular Field is a unique place that deserves its place in the modern ballpark archives.