In mid-April, the White Sox unveiled a special memento to commemorate their championship season of 2005. That was a very special year for us White Sox fans...for not only did the White Sox their first World Series title in 88 years, but it was also the entire city of Chicago's first baseball championship in 88 years. We Sox fans felt vindicated because in spite of all the popularity of the Cubs with their ballpark, sold-out crowds, neighborhood bars and all the negative attention the Sox received over the years, it felt great when nearly 2 million fans lined Chicago streets to honor the World Champs.

This plaza is a diamond-shaped brick display with a beautiful statue as its centerpiece. The statue was designed by the same designers who made the famous Michael Jordan statue outside the United Center, and the soldier memorials outside Soldier Field. There are images lazer-etched into the granite material as well as sculptures either on the front, top, and back of the sculture.

I'll put in a few pictures at a time in each post with a brief description...

Also...I realize some of you may not be able to view these pictures. They are a good size, and it does take them a while to load depending on your PC. If you're having a problem seeing the pictures, then click here, and you should be able to see a Photobucket slideshow of the pics.



This is the centerpiece of "Championship Moments", the name of the monument. You'll notice the bricks outside the plaque with names on them. Fans paid to have personalized bricks placed throughout the plaza. The white bricks are for player names and other dignitaries...the red bricks are from fans. They're all over the monument, with the names of players and others involved in the 2005 World Series winning team.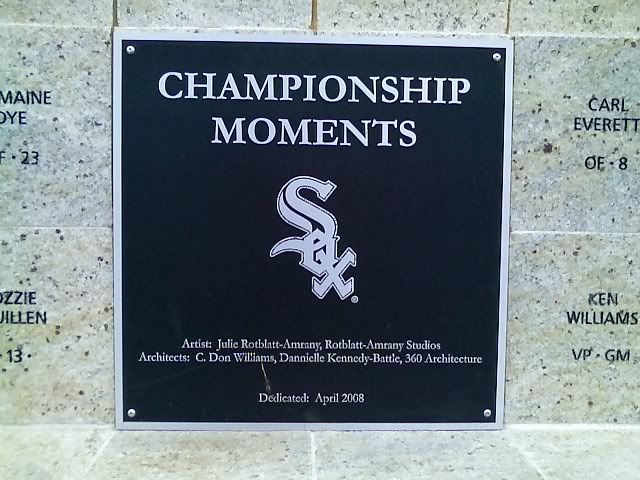 The title plaque for the monument.



Team owner Jerry Reinsdorf and his family.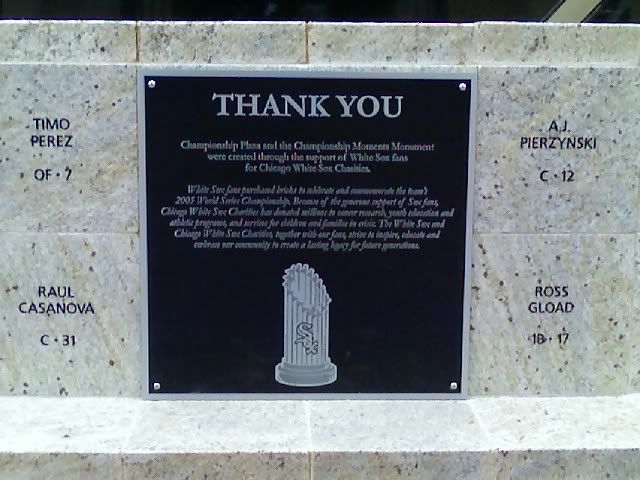 A "Thank You" plaque to everyone involved with this monument.



Former GM Eddie Einhorn and his family. He and Reinsdorf came to the team in the early 80's. They led the team to a 1983 A.L. West Division title, which was the first baseball championship of any kind for Chicago since the Sox won the A.L. pennant in 1959.