Basically I'll post in here once every couple days with some pictures and info on various ballparks around the world. Any contributions are welcome:
Please note I did not take any of these pictures.
Seibu (Formerly Goodwill) Dome
Location: Saitama, Japan
Team: Seibu Lions
Capacity: 35,879
Surface: Turf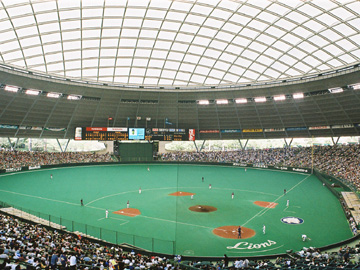 Stadium information:
Dimensions
Left: 328
Center: 400
Right: 328
In 1979, the Seibu Department stores corporation purchased the Crown Fighter Lions from the island of Kyushu in southern Japan, and moved them to Saitama, near Tokyo. The stadium wasn't always a dome. In 1998, the owners decided to put a roof on, citing heavy mist and frequent rain as the reason. Instead of fully enclosing the stadium, all sides are open to the elements. The outfield section is a berm as in many minor league stadiums in the US, only made of artificial turf.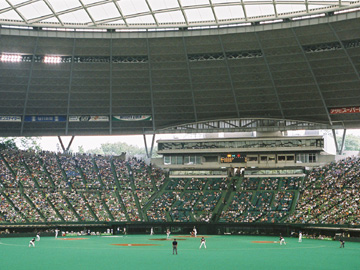 Team Information:
Full name: Saitama Seibu Lions
Japan Series titles: 9 (1982, 1983, 1986, 1987, 1988, 1990, 1991, 1992, 2004)
Players you might have heard of (currently on roster): Craig Brazell, Hiram Bocachica
Manager: Hisanobu Watanabe
Notable Former Players: Kaz Matsui, Daisuke Matsuzaka