I see a lot of comments about the bowl configuration of the new parks.
They are not going to go back to the old pillar or beam method of supporting the upper decks so that is all you can really say about it.
I also see a lot of bashing of HOK like they have ruined the game and are churning out crap stadiums just because they are the premier company for ballpark design and construction.
The teams themselves have say so in what they want in the new place and if they want more Jacobs Field then HOK gives them what they are paying for.
Like it or not, the parks that they have built in less than 2 decades have changed the face of major league ballparks and in my opinion it has changed for the better.
Stop and think about the parks that were around during the 70s and 80s and look at what we have now.
Their designs have done away with a lot of god awful ballparks while trying to pay tribute to the games history and tradition and that is a good thing.
They have also tried to bring back the connection between the ballpark and the city itself. Also a good thing.
Maybe they need to be given credit for the job that they have done instead of blaming them for not bringing Ebbits Field back from the dead.
Now that they have more than a handful of stadiums around the country, several different styles and some years to let it all sink in.... what are some of the things that you like or dislike about the HOK ballparks?
We went from going to places like this....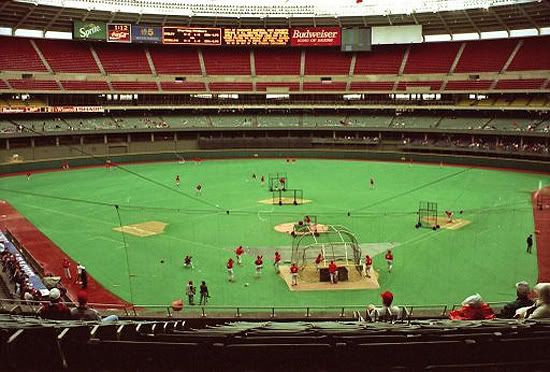 To going to places like this...