The precursor to Navin Field, and the home of the Detroit Tigers from 1896-1911. The Tigers were part of the Western League from 1896-1899, the minor league AL in 1900, and then the major league AL from 1901 onward. Named after the popular catcher Charlie Bennett, who played for the NL's Detroit Wolverines in every year of their existence (1881-1888, including a World's Championship in 1887), became the most popular Detroit ballplayer of the 19th century, and had had his legs amputated in 1894 after a train accident. Bennett "caught" every first pitch of every Detroit home opener from 1896-1926, and died in 1927.
Some interesting facts is that the field was oddly configured, with home plate in the SE corner of the site, so left handed batters had the sun in their eyes most afternoons (didn't hurt Ty Cobb too much though). And, maybe one of the first parks to take advantage of the buildings around it for choice seating, with "wildcat" bleachers popping up around it starting in the 1880's, as a kind of proto-Wrigleyville. Also, it saw three World's Series, 1907, 1908, and 1909, including the
Cubs' last Championship to date,
in 1908.
http://en.wikipedia.org/wiki/Bennett_Park_(Detroit)
http://www.baseball-almanac.com/stadium/st_bp.shtml
1907 WS
BennetPark.jpg
BennettPark.jpg
1909 WS
Bennett-park-1909-world-series.jpg
Larger size
Raising the AL pennant flag, 1910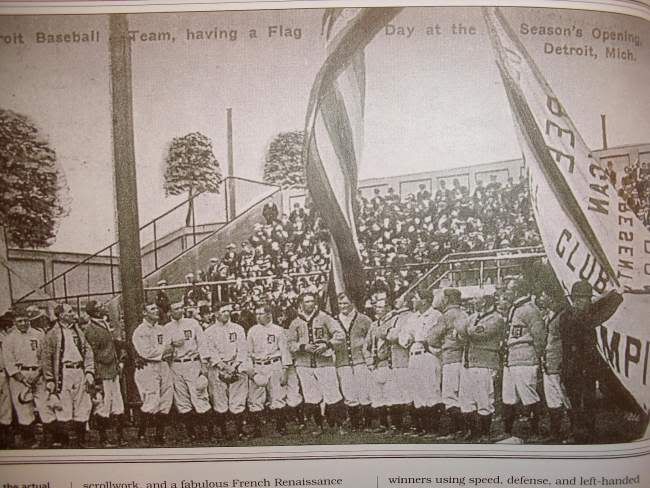 Last Opening Day (in the snow), 1911
openingday1911.jpg
And, Doctor Gogol's amazing Flickr set on the park ->
http://www.flickr.com/photos/doctor_...th/4223580140/