all
players when fielding a GB...
if
as you mention time allows, and they can "circle the ball" as it's sometimes called.
Just checking in, because it was a super fun thing to practice with my kid and we were going to work on it more this afternoon. He also wants to practice "robs" at the fence, so I was going to look into the technique there. Baseball - fever -> any advice on practicing robs at the fence? Thanks all for your help -> I find the nuance to the game super fun to learn about.
It is fun working with players (even better if they're your own kids), and learning all of the amazing nuances about the game that are out there.
As far as any technique to robbing a HR at the fence (which I think you're talking about wrt "robs" at the fence), the only few that take a little learning are:
1.) Knowing just how far a particular warning track is from the wall, and how many steps you have to it before crashing into it.
2.) Getting to, and finding the fence with the throwing hand w/o taking your eye off the fly ball enroute.
3.) In this situation, going up backhand can actually get you elevated higher above the fence, because you can use the throwing hand to lift, pull, or push yourself up higher over the fence.
3a.) Now that's not to say that you should "circle" around under the ball in flight to get it to your backhand...but what it is saying is that when you're pretty sure the ball is going out and you can't "camp under it" to make the catch...that in this case, you don't necessarily have to run past the backhand "rob" catch...just to try catch to it on the forehand side over the fence like you'd like to do when fielding a GB..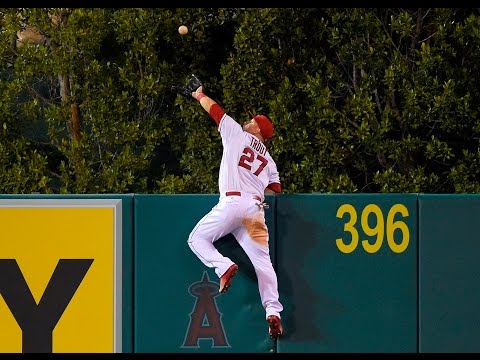 Have fun...that brings back lots of memories, because playing the "try to 'rob' home runs" game was one of the games that my brother and myself played the most often (after just playing catch) when it was just the two of us...even though neither of us were OFers. Yeah, it's that fun when INFer play it often....LOL!!