Mark H and Hiddengem asked me to post the video of my contraption that gives a rough simulation of how the shoulder rotation moves the bat and not arm or wrist strength or force.
A link to the video is provided below, and below that is a still image sequence with the path of the bathead, "hands" and front "elbow"
For those out there that think that huge forearm and wrist strength gets the bathead to the ball, please explain how the bathead in this demo got from its position in photo 2, to the impact position in photo 4, with zero muscles involved.
The movement of the hand joint along the yellow path creates angular momentum which whips the bathead around to catch up to where the hands are going.
http://firstpickclub.com/video/boxexp3.mpg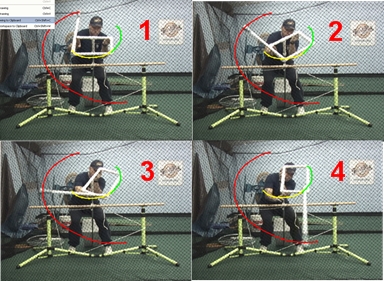 The hips turn first, which then forces the shoulders to turn when the side muscle fully stretches. Then the side muscle contracts and accelerates the shoulders to catch up with the hips. The arms stay rigidly in their original shape, connected to the rotating shoulders, which pulls the hands around as the demo device pulled the "hand" corner. The bathead whips around through momentum, the hands uncock due to the 1,200+ pounds of force whipping around at the ball, just as the bathead did in the demo. It spun on a screw at the "hands" corner of the pvc box.
A real swing would have more angle because the hands would be up near the armpit. I should have started the rotation of the contraption with the "hands" higher, and it would have shown more of an arc of the hands and it would have created more acceleration in the bathead, but you get the idea, I hope.