Borrowing the following clip from a recent post of MarkH's.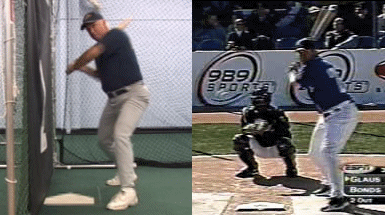 Please focus on the batter on the right.
If you would, place your cursor over at the highest point on the black belt prior to hip rotation (this will be on the left hip).
Notice that on the completion of rotation that the hips are level and at the same height as one placed the cursor.
I have multiple students that rotate their hips differently. They rotate their hips in a manner that has their rear hip lower than their front hip.
Have heard from Jim Booth that dropping of the rear hip is not recommended.
Can anyone comment on why the hips should end up level, or even if it is important?
Are there any drills that help rotate such that the hips end up level?
p.s.
For what it is worth, I had one of my students that finishes with their back hip lower try an experiment. Generally they try to rotate their back hip forward and their back hip ends up lower. Instead I asked them to concentrate on their front hip, and this resulted in them ending with level hips. Surprisingly the back hip still looked to be rotating forward (and even more forcefully). Anyone else run similar experiments or care to comment on which hip should be the focal point?