Philip De Catesby Ball:
Owner: St. Louis Browns, January, 1917 - 1932
Born: October 22, 1864, Keokuk, IA
Died: October 22, 1933, St. Louis, MO, age 69,---d. Buried Bellefontaine cemetery, St. Louis, MO
Father: Charles J.; Mother: Caroline Parkison; Wife: Harriet R., born Indiana, February, 1866. Married Philip around 1886. Daughter: Margaret Ball Cady, born Texas, May, 1890 , died, June 12, 1951, St. Louis, MO, of cancer, age 62, wife of William R. Cady.
In 1916, Robert Lee Hedges sold the Browns to Philip DeCatesby Ball, who owned the St. Louis Terriers in the by-then-defunct Federal League. Philip de Catesby Ball, ice-manufacturing tycoon and principal stockholder of the Feds' St. Louis Terriers, pays a reported $525,000 for the Browns and replaces manager Branch Rickey with his own Fielder Jones.
Four years later, Ball allowed the Cardinals to move out of dilapidated Robison Field and share Sportsman's Park with the Browns. This move was one of many that eventually doomed the Browns; Cardinals owner Sam Breadon and general manager Branch Rickey (a former Browns manager) used the proceeds from the Robison Field sale to build baseball's first modern farm system--which eventually produced several star players that brought the Browns more drawing power than the Cardinals.
The 1922 Browns excited their owner by almost beating the Yankees to a pennant. The club was boasting the best players in franchise history, including future Hall of Famer George Sisler, and an outfield trio - Ken Williams, Baby Doll Jacobson, and Jack Tobin - that batted .300 or better in 1919-23 and in 1925. In 1922, Williams became the first player in Major League history to hit 30 home runs and steal 30 bases in a season, something that would not be done again in the Majors until 1956.
Ball confidently predicted that there would be a World Series in Sportsman's Park by 1926. In anticipation, he increased the capacity of his ballpark from 18,000 to 30,000. There was a World Series in Sportsman's Park in 1926 - the Cardinals upset the Yankees. St. Louis had been considered a "Browns' town" until then; after 1926 the Cardinals dominated St. Louis baseball, while still technically tenants of the Browns. Meanwhile, the Browns rapidly fell into the cellar. As well as winning the World Series, St. Louis evolved to a "Cardinals'" town.
Phil's bio/photo (right) as they appeared in 1933's
Who's Who in Major League Baseball, edited by Harold (Speed) Johnson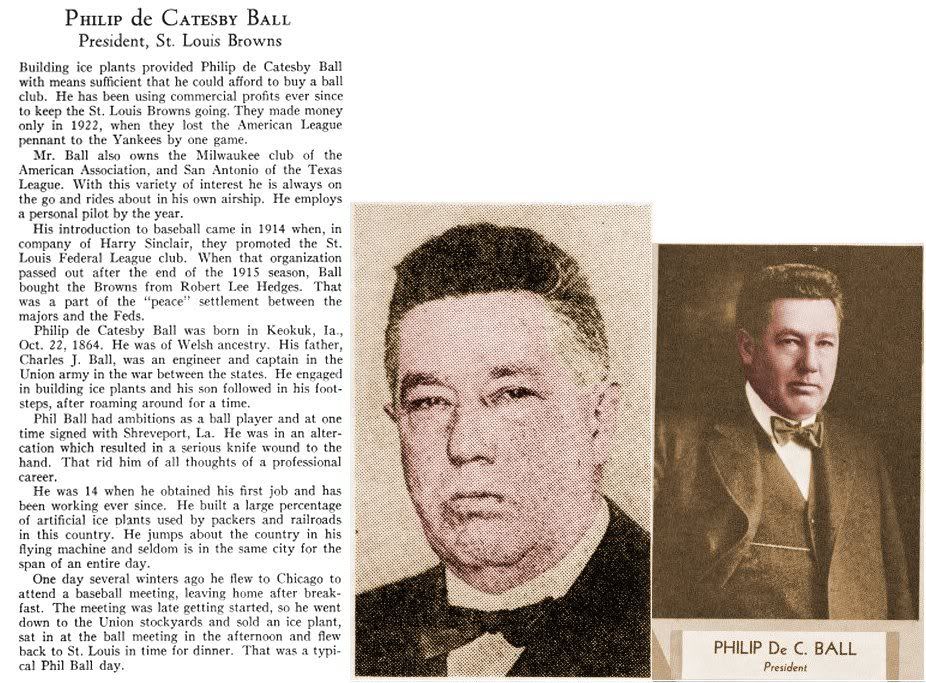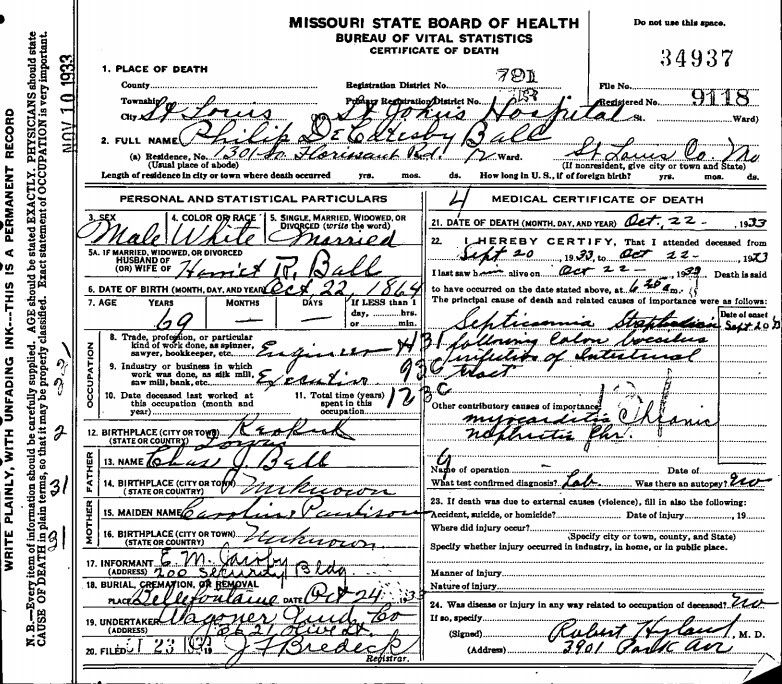 --------------Missouri Death Certificate.