So, Tom Glavine turns the big 4-Oh today. Although his career is definitely on the downswing, I'm really pulling for him to pick up the last 25 wins he needs to cement his place in Cooperstown.
Happy Birthday, Mr. Glavine. Thanks for so many great seasons.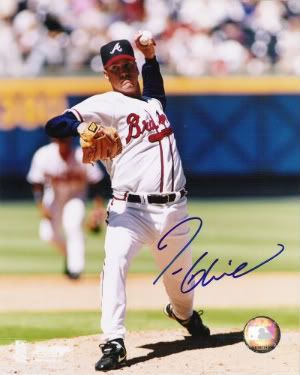 Here's how I have Glavine stacked up against the all-time great lefties:
Rank/Name/Career Merit Value
#16 Wilbur Cooper 728.105
#17 Jesse Tannehill 711.082
#18 Herb Pennock 638.316
#19 Nap Rucker 631.724
#20 Rube Marquard 614.991
#21 Tom Glavine 610.668
#22 Eppa Rixey 610.619
#23 Tommy John 605.588
#24 Mickey Lolich 595.394
#25 Jim Kaat 586.184
#26 Vida Blue 570.198
Did you know...
Tom Glavine holds the major league record for the most games pitched with no relief appearances? Through the 2005 season, all 603 games Glavine has appeared in have come in a starting role.
Southpaw Legacy