James Patrick Dawson

---AKA Jim Dawson

---his Sporting News' oibt lists his middle name as Parnell.

Born: March 27, 1895, New York City, NY

Died: March 6, 1953, New York City, NY, age 57,---d. St. Anthony's Hospital, St. Petersburg, FL, of heart ailment.

New York sports writer;

New York Times boxing editor, 1915 - 1953, helped found the New York

Boxing Writers Association in 1936 and served as its 1st Vice President.

Top baseball writer, and also specialized in boxing writing.

Dawson began a 45-year career with the New York Times as a copy boy in 1908. Eight years later, he became boxing editor and covered boxing and baseball until his death during spring training in 1953. The annual award presented to the top rookie in the Yankees ' training camp is named in his honor.

--------------------------------------------

Jimmy Dawson (Sportswriter. Born, New York, Mar. 27, 1895; died, St. Petersburg, Fla., Mar. 6, 1953.) Boxing editor of The New York Times for 38 years (1915-53), James P. Dawson was also distinguished as a baseball writer. Dawson was hired at age 13 in 1908 as an office boy for sports editor Henry P. Burchell (q.v.) and graduated to the sports desk five years later. He began covering baseball in 1918. Dawson covered every heavyweight champion from Jack Dempsey to Rocky Marciano, and was close enough to most of them to have a personal as well as professional relationship. Dempsey once presented him with a watch inscribed, "To my pal, Jimmy Dawson." He was an organizer of the New York Boxing Writers Association (1936) and served as chapter chairman of the New York Baseball Writers Association (1936-37). Dawson, a six-footer who looked like one of the heavyweight fighters he covered, was an active participant in the writers' shows at the annual dinners of both groups. He performed the feat of expanding his round-by-round summary of the 1921 Dempsey-Georges Carpentier fight at Jersey City from three paragraphs to three full columns from memory after returning to The Times office on the night of the fight. Dawson was a regular at Friday Night Fights at the Garden (he covered his last Feb. 20, 1953), was distinguished to television viewers as the man at ringside in the cap, and was honored by a moment of silence before the main event the night he died. Dawson passed away while covering Yankees spring training and the best Yankees spring training rookie award selected annually is named for him. (The Bill Shannon Biographical Dictionary of New York Sports is an open database of sports biographies maintained by Jordan Sprechman and Marty Appel.)

Photo/Entry in Who's Who in Major League Baseball, edited by Harold 'Speed' Johnson, 1933, pp. 500.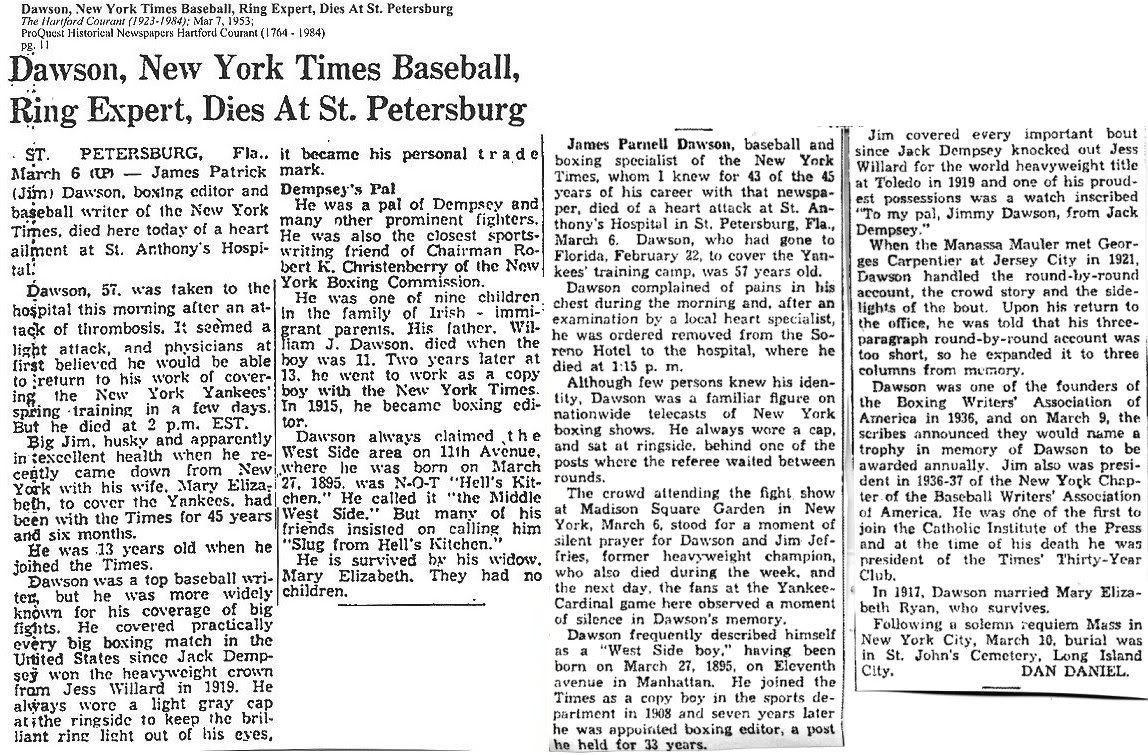 -------------Hartford Courant obituary, March 7, 1953, pp. 11.---------------------------Sporting News' obituary, March 18, 1953, pp. 22.

October, 1936: Casey Stengel, James Dawson, Joe McCarthy -----September 27, 1938, Yankee Stadium: (L-R) Bill Dickey, Red Ruffing, and Joe DiMaggio, were presented with Buick
----------------------------------------------------------------, automobiles for being elected to the Kellogg All-American Baseball Popularity Team. James Dawson (R), presented them.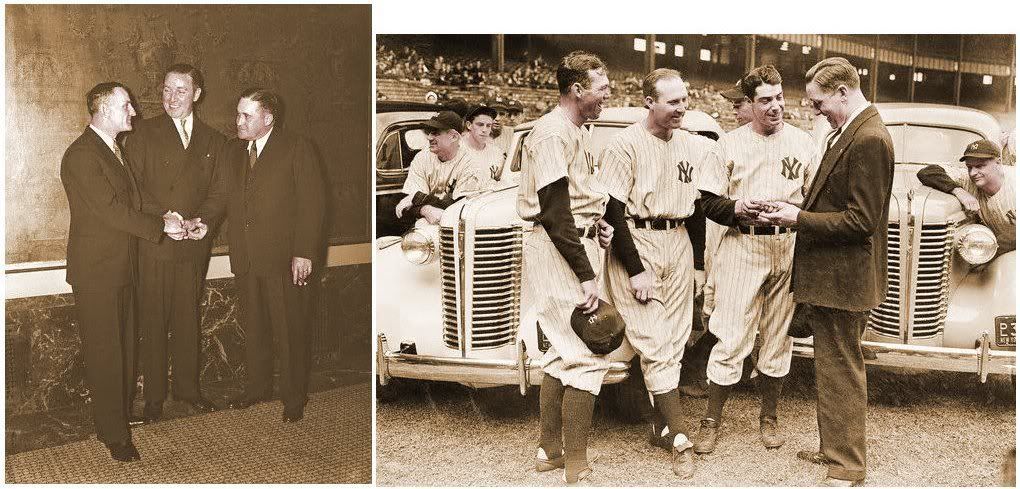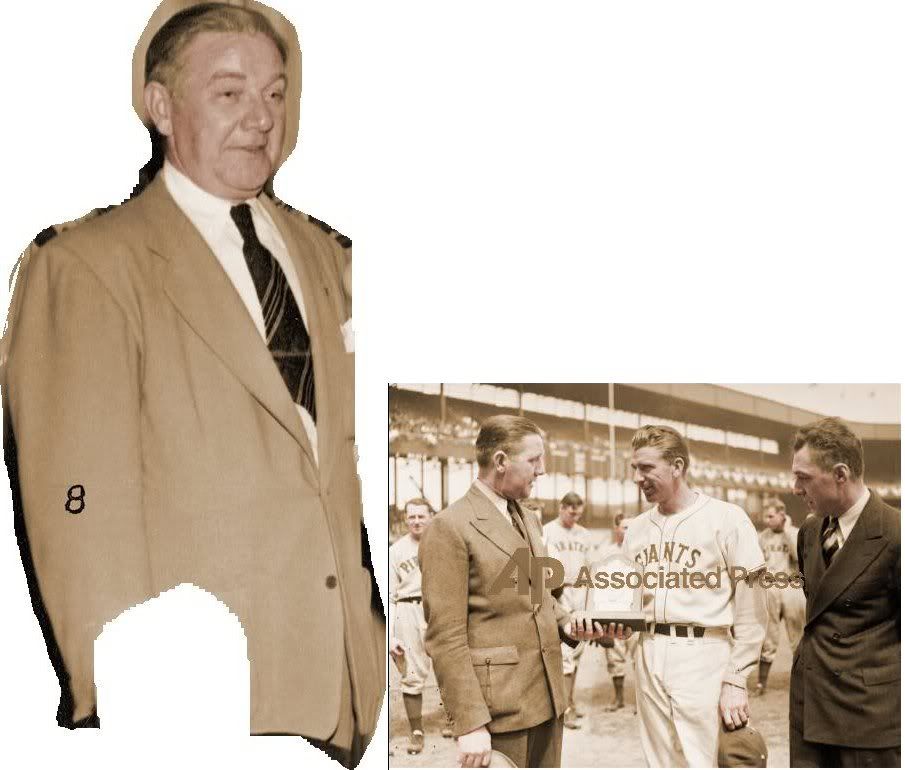 ------------------------1953----------------------------

May 12, 1937, Jim Dawson, Carl Hubbell, Ford Frick. Giving Hubbell the 1936 NL MVP, Polo Grounds.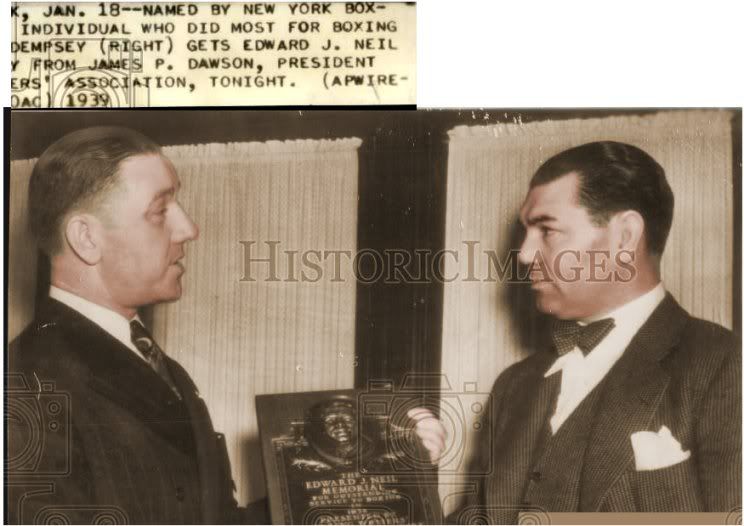 January 12, 1940: L-R: NYC Mayor

Jimmy Walker, Jim Dawson, Billy Conn.

-------January 18, 1939:

Jim Dawson

presents retired Boxing Champion,

Jack Dempey

with an award.