Harold Paul Lebovitz

---AKA Hal Lebovitz

Born: September 11, 1916, Cleveland, OH

Died: October 18, 2005, Cleveland, OH, age 89,--D. at University Hospital in Cleveland, OH of cancer.

Cleveland sports writer;

Cleveland, OH, 13-year old, (April 2, 1930 census)

Graduated Western Reserve University (Cleveland, OH) (BA), 1938

High School chemistry & math teacher (& athletic coach) in Euclid, OH, 1938-48:

Cleveland News sports reporter & columnist, 1948 - 1960,

Cleveland Plain Dealer columnist, 1960 -1984, sports editor, 1964 -1984.

Sporting News, columnist, 1970 - 1992.

Gannett Syndicate, 1979 - 1982. Director Cleveland Jewish News, 1971 - 1989; baseball umpire, 1937 - 1950, Football official., 1940 - 1971, basketball official., 1940 - 1960; Sporting News Cleveland correspondant, 1950 - 1964, Football official, 1940 - 1971.

Father: Isaiah, born Russia, 1890?; Mother: Celia, 1894?;

--------------------------------------------------------------------

Hal Lebovitz, veteran baseball writer of over 50 years, was the 1999 recipient of the J.G. Taylor Spink Award.

The longtime Cleveland-based scribe began his baseball-writing career in 1946 with the now defunct Cleveland News, covering the Indians as the paper's beat writer from 1950 until the News folded in 1960. Lebovitz then moved to the Cleveland Plain Dealer, covering baseball until 1964 when he became the paper's sports editor, a position he held for over 20 years. Lebovitz was also a regular contributor to The Sporting News from 1947 to 1993.

Lebovitz served as president of the Baseball Writers' Association of America in 1966 and presided over the inductions of Casey Stengel and Ted Williams. Until his death in 2005, Lebovitz authored three weekly columns for a newspaper chain in suburban Cleveland, including the popular and long-running "Ask Hal the Referee," in which he answered rules-related questions from fans.

----------------------------------------------------------------------

Article on Mr. Lebovitz, by Anthony Benedictis, a longtime baseball fan, who lives in Willoughby, Ohio.

In the years to follow, Harold "Hal" Lebovitz (ADL '38; GRS '42, education) would emulate Mr. VanAlstyne's coaching style. After his senior season, he was appointed coach of Reserve's freshman basketball team, which he guided to an undefeated season. He had several outstanding players, including Steve Belichick, whose son Bill would, years later, become head coach of the Cleveland Browns.

Mr. Lebovitz was then hired at Euclid (Ohio) Central High School, where he spent eight successful years as a chemistry and math teacher and coach of the football, baseball, and basketball teams. ("I still get letters from my students—wonderful letters," Mr. Lebovitz says.) He also spent time officiating all three sports, especially in the summers, when sandlot baseball was a big draw in places like Cleveland's Gordon Park and Euclid Beach.

While he was at Euclid and pursuing a master's degree in education at Western Reserve University's School of Graduate Studies, Mr. Lebovitz fulfilled a lifelong dream by breaking into the newspaper field. He used to keep detailed statistics on every baseball player in the twenty-five-team Metropolitan Interscholastic Baseball League where he coached. He submitted this information regularly to the Cleveland Press. In 1942, the Cleveland News, impressed with his efforts, invited him to write a column on high school sports three times a week. "I was scooping everybody, because I had the inside track on all the high school stuff as a coach and an official," Mr. Lebovitz recalls, smiling. An offer to work full time followed four years later. Although reluctant to leave teaching and coaching, he couldn't resist the opportunity to write.

At the Cleveland News, the enterprising Mr. Lebovitz decided to put his officiating experience to use. He originated a column, "Ask Hal, the Referee," in which he answered rules-related questions submitted by readers. In his answers, Mr. Lebovitz would often provide personal anecdotes. Throughout his eighteen-year tenure at the Cleveland News, Mr. Lebovitz continued his work as a sports official, umpiring area baseball and softball games as a member of the Cleveland Umpires Association. He also worked as a referee in the National Basketball League, the forerunner of the National Basketball Association, and he traveled around the country with the celebrated Harlem Globetrotters, refereeing games the team played against college all-stars.

The "Ask Hal" column became so popular that it was one of the reasons the Cleveland Plain Dealer immediately hired Mr. Lebovitz after the Cleveland News folded in 1960. Mr. Lebovitz also gained national prominence in the Sporting News as author of the "Ask Hal" column, a staple in the magazine for many years. He became a recognized expert on sports officiating, even prompting several changes to Major League Baseball's official rule book.

While he enjoyed success with "Ask Hal," Mr. Lebovitz rose through the ranks in the newspaper business. As a beat reporter, covering the Cleveland Indians for ten years, he developed a talent for personalizing sports figures and providing rich behind-the-scenes details. This talent served him well when he became sports editor of the Plain Dealer, a position he held for eighteen years; the feature articles and opinion pieces he wrote at the paper turned him into one of Northeast Ohio's favorite columnists. Today, at age eighty-five, he's still published regularly in five regional newspapers.

In July 2000, Mr. Lebovitz became only the second Clevelander ever to win the prestigious J. G. Taylor Spink Award and be elected into the writers' wing of the Baseball Hall of Fame in Cooperstown, New York. The first Clevelander to be so honored was the late Gordon Cobbledick, who preceded Mr. Lebovitz as sports editor of the Plain Dealer. Nationally, only fifty-two writers have received this award since its inception in 1962, when Mr. Spink, the late founder of the Sporting News, was the inaugural recipient. The award is voted upon annually by the Baseball Writers' Association of America. Each winner is presented with a certificate and is recognized in the "Scribes & Mikemen" exhibit in the hall of fame library.

key to Mr. Lebovitz's success is that he's always enjoyed going to work. At the hall of fame induction ceremony, where he was recognized along with inductees Sparky Anderson, Carlton Fisk, Tony Perez, Bid McPhee, and Norman "Turkey" Stearnes, he recalled saying that "covering baseball and these great men up here—traveling with them on the trains, sitting with them in the lobbies, hearing their stories—became a labor of love."

He's maintained friendships with ballplayers throughout his career, particularly several Cleveland Indians with whom he used to travel as a beat reporter. He remains friends with Herb Score, who pitched for the Indians from 1955 to 1959 and later spent more than thirty years broadcasting Tribe games, and Al Lopez, who managed the Indians from 1951 to 1956. He also kept in touch with now-deceased Indian Hall of Fame pitchers Bob Lemon and Early Wynn, two of the most dominating and consistently successful fireballers in team history.

Like they did during the Indians' glory days, Mr. Lebovitz and Mr. Lopez still occasionally meet on the road. This past spring, the two sat together and watched the Cleveland team train in Winterhaven, Florida. In 1977, when Mr. Lopez was elected to the Baseball Hall of Fame, he asked Mr. Lebovitz to write him a speech for the induction ceremony.

"I was flattered, and I really worked hard on it. I sent it to him. He called me up, he said, 'Great speech, Hal.' So we went to his induction, my wife, Margie, and I, because I wanted to hear the speech. He read the first paragraph, and he just introduced his family and sat down. He's no speaker; he doesn't enjoy it," Mr. Lebovitz says, laughing.

Their friendship has endured long past the days when Mr. Lebovitz would write columns criticizing the former manager. In separate cases involving two extraordinary football coaches, Mr. Lebovitz wasn't so fortunate.

"Woody Hayes [the late coach of the Ohio State Buckeyes, from 1951 to 1978] was close, because I had been a coach, and he liked me," Mr. Lebovitz recalls. Then Mr. Hayes's legendary temper came into play.

In a 1978 bowl game against the Clemson Tigers, Mr. Hayes looked on as the Buckeyes tried to rally in the final minutes to overcome a 17 to 15 deficit. A Clemson linebacker dashed the Buckeyes' hopes by intercepting a pass, and, when the player ended up out of bounds near the OSU bench, Mr. Hayes punched him in frustration. University officials fired the coach the next day. Mr. Hayes had many supporters who protested the firing by pointing to the coach's long and impressive track record.

In an opinion piece, Mr. Lebovitz weighed in on the dispute. "I called him the rear end of a horse, and [this comment] was picked up by Newsweek," Mr. Lebovitz recalls. "I got tons of mail, negative mail, all sticking up for Woody, for the most part. And the next time I saw him, I said, 'Hi, Woody.' He put out his hand, then he saw who it was, and he dropped his hand like mine was on fire. And I was persona non grata with him for a long time."

Like Mr. Hayes, former Cleveland Browns' head coach Paul Brown also appreciated Mr. Lebovitz's onetime stint as a football coach. The two got along fine until a quarterback controversy in 1958. At that time, Mr. Lebovitz also was writing a radio show for Jim Brown, and, on one segment, the star fullback lobbied for Milt Plum as the quarterback. Coach Brown, however, favored Jim Ninowski.

"No sooner was that show over, my phone rang," Mr. Lebovitz remembers. "Paul Brown. He knew I was writing the show. 'Hal, how could you let this guy say those things. You know better than that,' and so forth. And I said, 'Paul, this is his show. I just write the words. Here's his phone number. Call Jim.' And I called Jim, and I said, 'Paul's gonna call you.' He said, 'No, he won't.' And he never called him."

Although Mr. Lebovitz's relationship with coach Brown was never the same, he developed a good working relationship with the team's next head coach, Blanton Collier.

r. Lebovitz likes talking with people from all walks of life, not just coaches and ballplayers. As his wife, Margie, can attest, he stirs up conversations wherever he goes. It happened recently at the Cleveland Play House, where the couple was supposed to be enjoying Jerusalem, a comedy. Between acts, Mr. Lebovitz could be found in the parking lot, where an attendant had the Indians play-by-play on the radio. Like-minded patrons joined him, chatting about the team until it was time to go back inside. Then they formed a relay team when the lights went down. "It was very funny in the theater," Mr. Lebovitz says. "What's the score, what's the score? Then, when somebody found out, it was whispered all the way down the aisle."

Keeping track of the Indians has been a way of life for sixty years. Hal and Margie Lebovitz, now married sixty-three years, occasionally attend games together at Jacobs Field. For games they don't attend, there's always the TV in their University Heights home.

Mr. Lebovitz follows the current team more than dwelling on the ups and downs associated with ball clubs of the past. "I don't like to write about the past," he says. "Sometimes you have to—they ask you to do it—but I want to be current." The result: He's always on the lookout for the latest information about the team, probing his many sources and getting his thoughts together for columns that appear every Sunday and Monday. His many readers are glad he's so inclined.

Author Anthony Benedictis, a longtime baseball fan, lives in Willoughby, Ohio.

Recent photographs by Betsy Molnar; others courtesy of Mr. Lebovitz Salutations: Mr. Lebovitz presents an award to Indians' great Bob Feller.



Ask Hal: Mr. Lebovitz reviews a baseball rules book-------Photo review: In the comfort of his home, Mr. Lebovitz reminisces
while preparing his column. -------------------------------while looking at old photographs of his wife and him.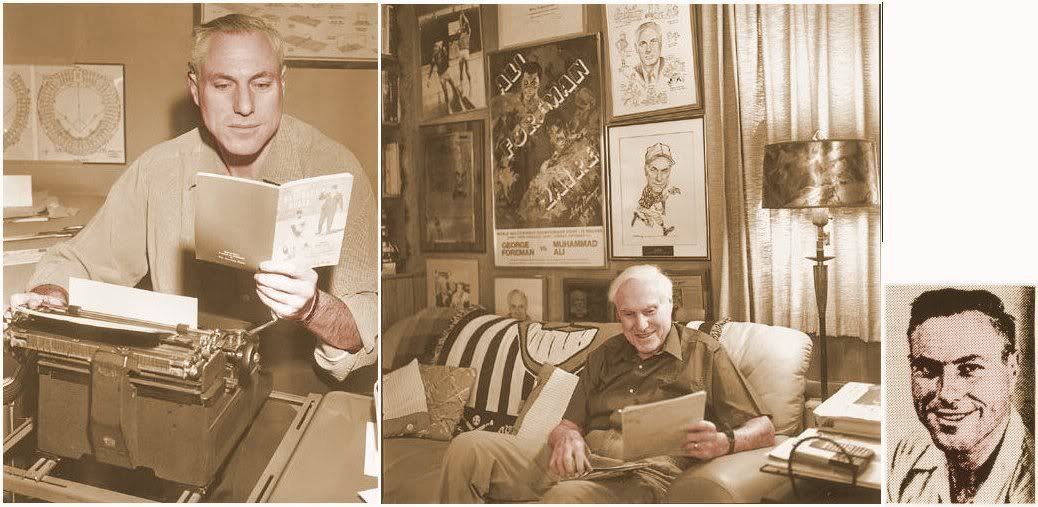 At his Hall of Fame Induction Ceremony, July 23, 2000.