Lloyd Gustav Larson
Born: May 30, 1902, Milwaukee, WI
Died: April 14, 1990, Greendale, WI, age 87,---d. at home after long illness of more than a year.
Milwaukee sports writer / sports editor;
Milwaukee, WI, 7-year old, (April 19, 1910 census)
Milwaukee, WI, editor, (January 10, 1920 census)
Milwaukee, WI, sports writer, newspaper, (April 15, 1930 census)
Milwaukee, WI, editor, publishing Co., (April 16, 1940 census)
Graduated from South Division HS, 1919 (had been starting quarterback for the 1918 team.)
Graduated University of Wisconsin (Madison, WI), (had been a good athlete there. Captained 1926 baseball team. Majored in economics.)
After graduating from college, he officiated football/basketball games at all levels, including Big 10 games.)
Wisconsin Evening News, 1912 - 1939
Milwaukee Sentinel, sports writer, 1939 - 1944, sports editor, 1946 - 1974, (27 years)
Board of Milwaukee Public Schools, 1953 - 1975 (22 years, including 2 terms as Board President.)
Father: Robert, born Sweden, 1860?; Mother: Emilie Bergstrom, born Sweden, 1869?; Mother: Eva A., born Sweden, 1875?;
He was the quintessential loyal supporter of his area's sports teams.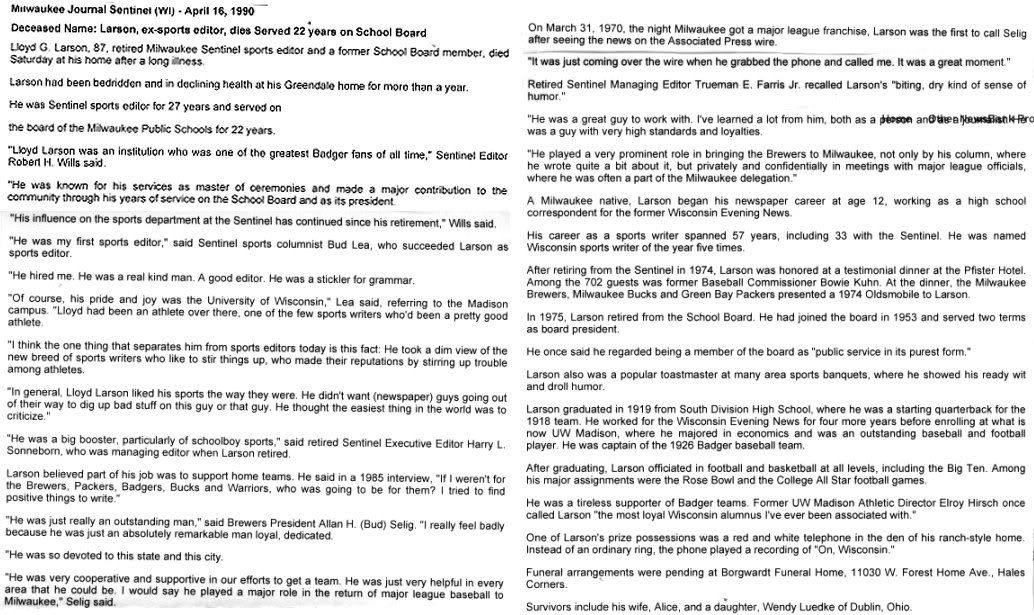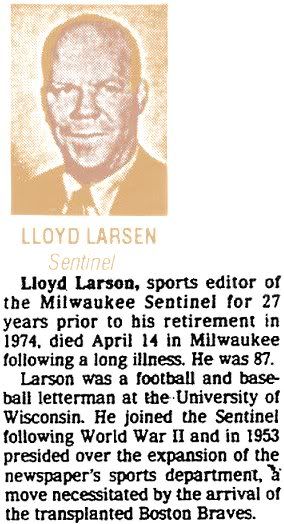 Milwaukee Sentinel obituary, Monday, April 16, 1990, pp. 5, part 1.-------------------------------------------------------------------------------------Sporting News' obituary, April 30, 1990, pp. 45.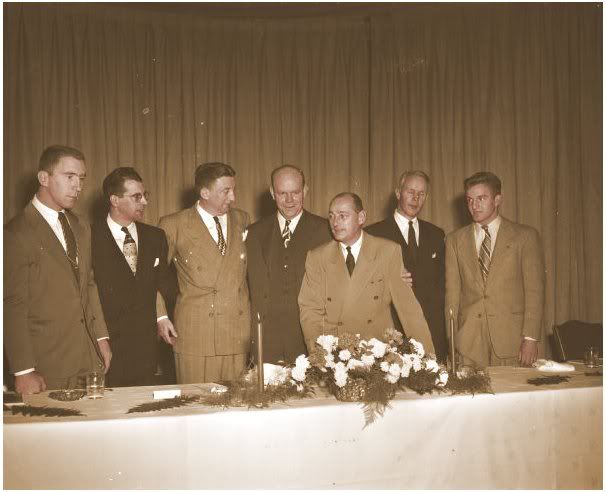 Participants at the head table of the annual University of Wisconsin football banquet in the Great Hall of the Memorial Union.
L-R: Robert "Red" Wilson, junior center who was named the most valuable player for the second straight year;
Charles Fenske, general chairman of the banquet; John Carmichael, sports editor of the Chicago Daily News;
Lloyd Larson, sports editor of the Milwaukee Sentinel; Harry Stuhldreher, athletic director and head football coach;
Professor William B. Sarles, chairman of the athletic board; and Walter Dreyer, senior halfback who was elected team captain.