Samuel Muchnick
Born: August 22, 1905, Ukraine
Died: December 30, 1998, St. Louis, MO, age 93,--d. internal bleeding
Buried: Memorial Park Cemetery, St. Louis, MO
St. Louis sports writer / wrestling promoter; Jewish
St. Louis, MO, 14-year old, (January 2, 1920 census)
St. Louis, MO, advertising, newspaper, (April 8, 1930 census)
Brooklyn, NY, Lawyer, private practice, (April 10, 1940 census)
Family immigrated to US, 1912
St. Louis Star, sports writer, 1926 - 1932, covered Cardinals, etc. (under Sid Keener)
St. Louis Times, sports writer, (under Dick Farrington)
Worked for Tom Pax (Thomas Packs Sports Enterprises), wrestling promoter
First wrestling card: March, 1942, enlisted Army Air Force, 1942,
Founded National Wrestling Alliance, 1948,
Served as President 25 years, 1950 - 1960, 1963 - 1977,
Promoted last wrestling card, January 1, 1982,
Considered Dean of Wrestling promoters,
Formed St. Louis Wrestling Club, 1958
Primarily a wrestling promoter.
Father: Saul, born Russia, 1873? (immigrated to US, 1898); Mother: Rebecca, born Russia, 1885? (immigrated to US, 1912); Wife: Rose, born Russia, 1908?; Son: David, born New York, 1937?; Daughter: Marlene, born New York, 1939?;
The legendary St. Louis promoter, Sam Muchnick, ran a successful promotion from 1945 until his retirement in 1982. He was actively involved in the National Wrestling Alliance, which was the main governing body for professional wrestling during his period of promotion. Muchnick passed away in 1998 at the age of ninty-three.
Tribute: The Life and Times of Sam Muchnick, by Scott Teal
Webmaster, Whatever Happened To...?
Originally ran in the Whaterver Happened To...? Issue 16
It's only fitting that one of the most unique individuals in the history of professional wrestling would have a unique beginning to his life.
Sam Muchnick was born Aug. 22, 1905 in the Ukraine to Jewish parents, Saul and Rebecca Muchnick. His mother once danced for Czar Nicholas II, the last Romanov ruler of Russia. Sam was supposed to be born where his family lived, St. Louis, but while travelling, Sam arrived two months ahead of time. He was born Jeshua (Jesus) Muchnick, but his father decided that Jesus was an inappropriate name for an American boy and renamed him Samuel, shortened to Sam.
Sam attended Franklin Grammar School and Central High School, but worked during tough financial years. It was during this time that he saw his first live wrestling match. "I had planned to attend a graduation ceremony at Central High School, which was right next to the Odeon Theatre, where the matches were being held that evening. While I was standing outside, a man walked up and gave me to free tickets. I never made it to the graduation, but saw the great Wladek Zybszko wrestle that night."
Sam did attend his own graduation on June 9, 1924, and began to work as a postal clerk for the United States Postal Service, a position that paid a salary of $1,900 a year. In 1926, he joined the sports staff at the old St. Louis Times newspaper, for $20 a week. He stayed with the Times until 1932, when it merged with the St. Louis Star and became known as the Star-Times. Offered a position by the new management, Sam rejected it, because one of his friends would have been bumped from the staff.
Sam had no trouble finding work. His years as a sports writer had allowed him to develop many influential acquaintances with people from Babe Ruth to Mae West, from Al Capone to Frank Lane. The one that sent his life on a new course was Tom Packs, the St. Louis wrestling promoter. One of the sports that Sam covered for the "Times" was wrestling, and a friendship had developed between himself and Packs.
Getting his start in wrestling
On August 1, 1932, Sam took a job as Packs' publicist, and became Packs' right-hand man. He handled all of the publicity, some of the booking, and payoffs of wrestlers. However, because of his reputation and important contacts in the Midwest, Sam's greatest value to Packs was in the field of public relations.
The Packs-Muchnick team worked well, until an incident transpired that put them at odds with one another. "I worked for Tom Packs for nine years, until he promoted a fight between Joe Louis and Tony Musto. The fight was a sellout -- a $67,000 house with a profit of $14,000. For all the work I did, he gave me a $200 bonus. I wasn't happy about it, and might have let things go, until I learned some things a few weeks later. I was talking with Mike Jacobs' right-hand man about something, and he said that Mike had wanted to give me 10 percent of the profits. $1,400. Packs had told Mike that '$200 was enough. Don't spoil him' When I heard that, I decided I'd be leaving him. (Jim) Londos helped talk me into leaving him, because Londos
was also on the outs with Packs at the time. I decided to go out on my own, and Packs tried to stop me, but I got an injunction against the athletic commission."
Sam made a decision to begin promoting on his own. When he asked the State Athletic Commission for a license, they refused, saying that they felt one promotion was enough. It was evident that Tom Packs was pulling some political strings to keep Sam from opening up, but Sam obtained a court injunction and promoted two shows in May of 1942.
Sam's promotional career took a military detour when he enlisted in the Air Force for two years.
He left as a sergeant in 1945, determined to pick up where he had left off. Sam's next two shows were also promoted under court injunction. One of those, his first show at the Kiel Auditorium, was held on December 5, 1945.
With the help of Jack Pfefer, who sent him a few wrestlers to help him get started, he drew 3,771 fans for his first card. This was the lineup:
Ed Virag beat Roy Dunn
Strangler Lewis beat Jack Conley
Cliff Guffston beat Jack Beattey
Lee Wykoff beat Jack Lammay
Joe Plummer beat Al Martin
The new promotion was off and rolling, but crowds were sparse and small. He was faced with opposition from Tom Packs, his former boss, and Sam struggled to survive during the first few years. Packs had most of the major talent tied up, so Sam used many of the old-timers who were getting along in years. The pressure from Packs almost forced Sam to fold up, but by 1946, Packs himself was having financial problems. He made the decision to begin promoting circuses, and sold out to Martin Thesz, who in actuality, was simply a front man for his son, Lou Thesz.
Lou had become a top drawing card in the Midwest, and in St. Louis in particular. Along with several backers, which included Frank Tunney, Bobby Managoff, Eddie Quinn, and Bill Longson, Lou took over Packs' promotion.
The birth of the National Wrestling Alliance
Lou regained the National Wrestling Association version of the World Heavyweight title and, for the next two years, drew about double the crowds. In late 1948 two events took place that turned things around for Sam. "Up to this time, the only regulations for wrestling and boxing came from the National Wrestling Association, which was mainly made up of members of the state commissions. The idea of forming a new alliance of wrestling promoters actually started with Pinky George and Tony Stecher, who came up with the idea. They decided to back me and send me talent, so they called and wanted to know if I'd like to join their group. We met in Waterloo, Iowa at the President Hotel to talk about the new alliance and declare a world champion."
Gathering at the President Hotel that day were Pinky George of Des Moines, Wally Karbo (who represented Tony Stecher), of Minneapolis, Orville Brown of Kansas City, Max Clayton of Omaha, Nebraska, and Sam Muchnick of St. Louis. George was elected as the first president of the new organization, which became known as the National Wrestling Alliance.
As the president, his main responsibility was to book the world champion, for which he received 3 percent of the gate whenever the champion wrestled. At the same time, Orville Brown was declared the first recognized World Heavyweight champion of the NWA.
Promoters from all over the world began calling, wanting to join the alliance and secure the services of the world champion, and reap the benefits of belonging to a strong organization. Shortly after this, Sam became the beneficiary of talent exchanges from Stecher and Karbo, as well as Al Haft and Frankie Talaber of Columbus, Ohio.
But the incident that followed is what really helped even out the balance of power between the two St. Louis promotions. Jack Pfefer, who was promoting in Toledo, sent Sam one of the hottest box office draws of the time, Buddy Rogers. Rogers on his February 4, 1949 show, Sam had his first sell-out at the Kiel Auditorium as 10,651 fans packed the arena to see Rogers wrestle the Indian sensation, Don Eagle.
Unifying St. Louis and the World title
Sam Muchnick and Lou Thesz made peace in late 1948, merging their two promotions into one. Sam kept controlling interest by holding two percentage points more than Thesz.
A World title unification match was scheduled for November of that year in St. Louis, between Thesz, champion of the National Wrestling Association, and National Wrestling Alliance champion Orville Brown. In mid-1949, however, Brown was injured in a tragic automobile accident. Boston promoter Paul Bowser made a motion at the NWA. meeting to recognize Thesz as the champion. "In answer to the question that so many people ask, I believe that if Lou Thesz had wrestled Orville Brown in a legitimate contest, Lou would have beaten him," said Sam.
Taking over the NWA
In 1950, at the second annual convention in Tulsa, Oklahoma, Sam Muchnick became the new head of the NWA. and was elected unanimously for the next nine years. At the 13th convention, it was decided that the organization might benefit from new ideas, so a motion was passed to elect a different president each year. In 1960, Frank Tunney of Toronto was elected, followed by Fred Kohler in 1961, and Doc Sarpolis of Amarillo in 1962. Sam took over as executive secretary for those three years.
When it became evident that most of the presidents were more concerned about their own territory, and didn't take enough interest in building the alliance, Sam was again unanimously elected president. He held that office from 1963 until he retired in 1977, a total of twenty-five years. When one promoter was asked why Sam was elected so many times, his answer was brief,
yet valid. "Who else can we trust?"
"After I retired, the alliance elected other presidents, but most of them were too interested in their own business to do what they were supposed to do as president of the NWA. That's why the alliance wound up being a flop, because they didn't have anybody that took a sincere interest in the organization."
With Sam at the helm, the NWA. became the ruling body in professional wrestling, and funds from the treasury were contributed amateur wrestling groups. Thousands of dollars were donated to help fund the U.S. Olympic Wrestling Team.
St. Louis Wrestling grows and Wrestling At The Chase
In 1959, a new television program debuted on KPLR-TV, Channel 11 in St. Louis, Wrestling At The Chase. In addition to over 500 shows presented at the Kiel and Arena (now the Checkerdome) over the span of 37 years, Sam produced over 700 television cards, before retiring as promoter on January 1, 1982. On the date of his retirement, he celebrated five decades in the business. Former Mayor Vincent Schoemehl proclaimed that date as Sam Muchnick Day in St. Louis.
One could safely say that Sam Muchnick made more of a positive impact on professional wrestling than anyone, promoter or wrestler. Many consider Sam and Paul Boesch to be the fairest payoff men in the business.
That's Sam Muchnick. He never participated as a wrestler, and only refereed a few matches, but he brought a lot of respect to wrestling in St. Louis. And through his efforts with the National Wrestling Alliance, he helped establish a firm foundation for professional wrestling around the world for many years.
Scott Teal is one of the finest wrestling historians in the sport. His publications, Whatever Happened To...? is a standard for the industry. His website, Whatever Happened To...? is a must visit for serious wrestling fans.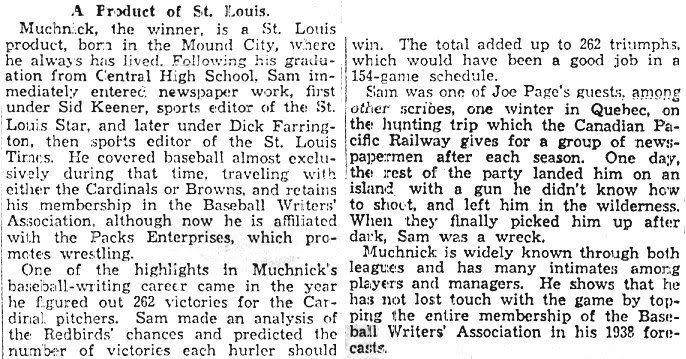 ------
Sam Muchnick/Lou Thesz------------------Jim Crockett/Sam Muchnick