Robert Fulton Kelley
Born: September 15, 1900, New Jersey
Died: December 14, 1975, Huntington, NY, age 75,---d. at Huntington Nursing Home (Long Island)
New York sports writer;
Plandome, NY, daily newspaper, sports writer, (April 9, 1930 census)
New York Post, 1920 -
New York Times, sports staff, 1926 - February, 1944
Metropolitan race track, publicity relations, 1945 - 1959
Father: born Massachusetts; Mother: born Ohio; Wife: Evelyn Chard, born New York, around 1900; Son: Robert F., Jr., born New Jersey, around 1924; Son: George C., born New Jersey, around 1925; Son: Michael.
Robert F. Kelley (Sportswriter. Born, Narragansett Pier, R.I., Sept. 15, 1900; died, Huntington, N.Y., Dec. 14, 1975.) Emerging as a man for many seasons, Robert Fulton Paul Anthony Kelley began his career at the New York Evening Post in 1920. Kelley covered horse racing, a little baseball, polo, yachting, and even the occasional football game. His knowledge of these wide-ranging events made him a valuable member of the staff. In 1926, he switched to The Times, starting an 18-year stint on West 43rd Street, during which he became more of a racing writer. Kelley became the publicist for the metropolitan area race tracks (Empire City, Belmont, Aqueduct, and Sarasota) in 1944. Two years later, when the tracks formally organized into a group, he was in charge of their public relations. This group became the New York Racing Association in 1955. Kelley was the first publicity director for the fledgling International Soccer League at the Polo Grounds in 1960 and spent part of the 1961 season with the A.F.L. Titans. In the final years of his working career, he was with the Thomas J. Deegan public relations firm in Rockefeller Center (1962-70). Among his tasks at Deegan was handling N.Y.R.A. assignments and getting the City to name the new municipal stadium in Corona for New York attorney William A. Shea. (The Bill Shannon Biographical Dictionary of New York Sports is an open database of sports biographies maintained by Jordan Sprechman and Marty Appel.)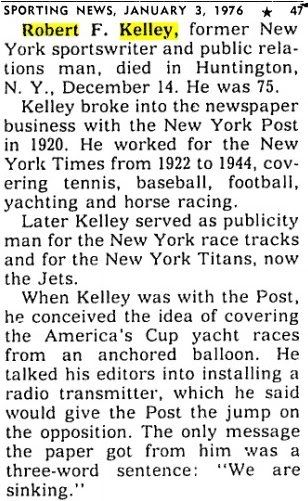 New York Times' obituary, December 15, 1975, pp. 34.------------------------------Sporting News' obituary, January 3, 1976, pp. 47.