Percy Hollister Whiting
Born: April 10, 1880, Great Barrington, MA
Died: August 7, 1967, Montrose, AL, age 87,---d. after a long illness.
Southern sports editor;
Great Barrington, MA, medical student, (June 6, 1900 census)
Kirkwood, GA, foreman, spring fasting, (April 27, 1910 census)
Augusta, ME, advertising manager, public company, (January 8, 1920 census)
Dallas, TX, President of Company, Investments, (April 8, 1930 census)
Houston, TX, instructor, public school teacher, (April 8, 1940 census)
Nashville
Memphis
Altanta Georgian
Father: John, born Massachusetts, September, 1853; Mother: Anne L., born Massachusetts, February, 1855; Wife 1: Elise P., born Tennessee, around 1882; Son: Percy Hollister, Jr., born Georgia, around 1910; Wife: Gene
Wikipedia
Percy H. Whiting was an American author, newspaper reporter, sports editor, advertising writer, salesman, and professional speaker. From Chappaqua, New York, he rose to become Vice President of Dale Carnegie & Associates. He dedicated each of his books to his wife Gene.
----------------------------------------------
Sports editor on newspapers in Nashville and Memphis, TN., and Atlanta, Ga., 1902-13; Comfort (mail order magazine), Augusta, Me., advertising manager, 1913-18; Central Maine Power Co., Augusta, Me., manager of securities department, 1918-23; Henry L. Doherty & Co., New York, N.Y., general retail sales manager, securities department, 1923-27; P. H. Whiting & Co., Inc., New York, N.Y., president, 1927-32; W. R. Bull & Co., New York, N.Y., vice-president, 1933-37; Dale Carnegie Institute, New York, N.Y., began 1937, managing director, 1943-52, managing director of Dale Carnegie Sales Courses, 1952-60.
Family: Born April 10, 1880, in Great Barrington, MA; died in August 1967, in Montrose, AL; son of John Fred (a druggist) and Annie Louise (Hitchcock) Whiting; married Elise Warren Polk, 1909; married second wife, Genevieve Bearmore, October 19, 1946; children: (first marriage) Percy H., Jr., Dorothy Polk (Mrs. T. G. Howland). Education: Attended Harvard University, 1898-99, and Vanderbilt University, 1900-02. Politics: Republican. Religion: Episcopal. Memberships: Sales and Marketing Executives of Mobile, New York Sales Executive Club (charter member).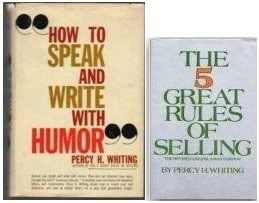 ----------------------------------------
Sporting News' obituary, September 2, 1967, pp. 44.