Earl J. Hilligan
Born: October 17, 1906, Bessemer, MI
Died: March 18, 1986, Elmhurst, IL, age 79,---d. Elmhusrt Memorial Hospital.
Chicago sports writer;
Attended University of Minnesota,
Graduated University of Michigan, 1930
Bessemer, MI, 3-year old, (April 16, 1910 census)
Bessemer, MI, 13-year old, (February 16, 1920 census)
Ann Arbor, MI newspaper reporter (Ann Arbor Daily News), (April 2, 1930 census)
(Chicago, IL, news service, sports writer (April 6, 1940 census)
Associated Press bureau (Detroit Office), 1933
Associated Press (Chicago Office), sports writer, September 15, 1936? 1937; Assistant sports editor, 1937 - 1941
American League Service Bureau, press bureau (Chicago Office), 1941 - 1957
Father: James C., born Wisconsin around 1866; Mother: Jane Elizabeth Ryan, born Wisconsin, around 1870; Wife Margaret, born Michigan, around 1911; Son: Thomas J., born Michigan, around 1936; Daughter: Kathy;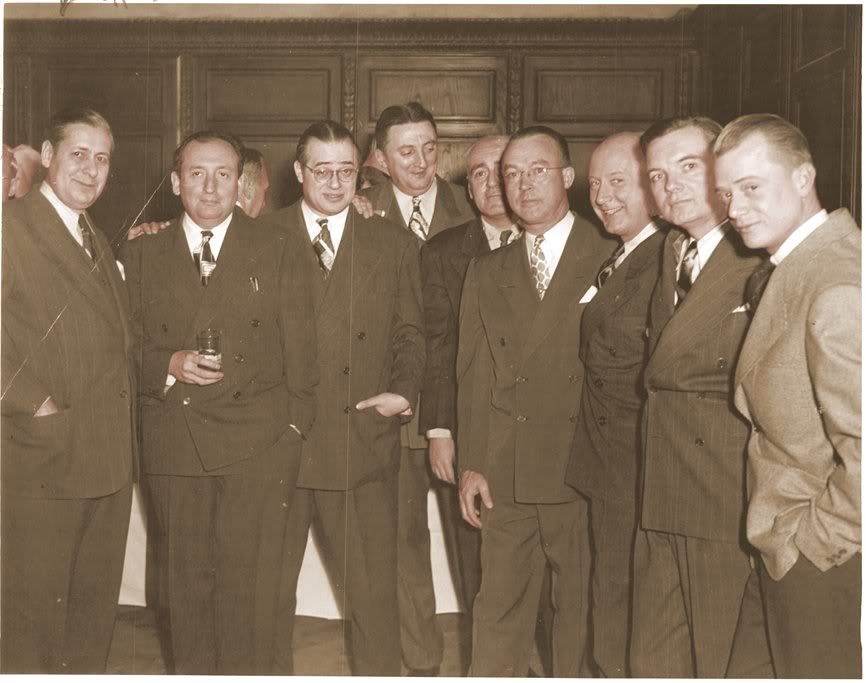 December 23, 1946: Chicago sports writers: L-R: John Hoffman, Dan Desmond, Herb Simons, John Carmichael, Jack Ryan, Earl Hilligan, Howard Roberts, Edgar Munzel, Chuck Chamberlain
.


July 23, 1951: L-R: Ford Frick, Earl Hilligan, Jimmy Foxx, Tommy Richardson. At Jimmy Foxx' Hall of Fame induction ceremony, Cooperstown, NY.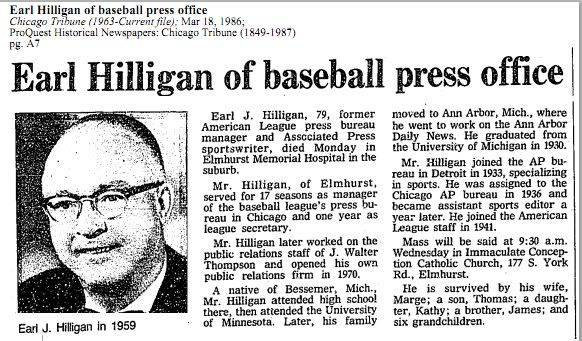 Chicago Tribune obituary, March 18, 1986, pp. A7.

1956:

Will Harridge

/

Earl Hilligan

.