Andrew Palich---AKA Andy Palich
Born: August 12, 1915, Mountain Springs, PA
Died: December 4, 1964, Akron, OH, age 49,---St. Thomas Hospital, died of injuries received in a 2-car collison in Akron, OH, October 29, 1964.
Buried: Oakwood Cemetery, Cuyahoga Falls, OH
Cleveland sports writer;
Arrived in Akron, OH at age 5, around 1920.
Graduated North HS (Akron, OH)
Shratton, CO, 4-year old, (February 24, 1920 census)
Akron, OH, 14-year old, (April 9, 1930 census)
Akron, OH, city of Akron, Assistant custodian, (April 5, 1940 census)
Attended Kent State University
Cleveland Plain Dealer, sports correspondent of their Akron bureau, 1945 - 1964
In 1965, they created an Award to honor him. The Andy Palich Memorial Award.
Father: Michael Pahulych, born Poland, July 29, 1889, died Summit, OH, April 27, 1973, immigrated to US, 1909; Mother: Anna Pocono, born Pennsylvania, June 7, 1897, died Summit, OH, April 18, 1972; Wife: Margaret Mary (McFarland), born June 14, 1919, died 1958; Daughter: Joyce Ann (Balthazar) of Rocky River; Daughter: Nancy Jean Palich; Son: Gerald A. Palich; Daniel A. Palich. Andrew married Margaret on September 30, 1939 in Summit, OH.
Andy was an Akron, OH fireman for 4 years and was a janitor at North HS at the end of the depression era.
Annually, since 1965, the Summit County Sports Hall of Fame (SCSHOF) has presented a special award to individuals who have made a major contribution for the betterment of athletics in the county, Ohio or nationally other than as a player, coach and/or manager. That award is called the Andy Palich Memorial Award in memory of Andrew "Andy" Palich, a long-time Akron area sports reporter and a member of the Summit County Sports Hall of Fame Committee.
A native of Mountain Springs, PA, Palich took an indirect route into the newspaper business. Before becoming a full-time reporter for the Cleveland Plain Dealer and Akron bureau chief in 1945, he had worked as a fireman and a school custodian.
Palich was only five when his family moved to Akron. He was a graduate of North High School and attended Kent State University. Friends said Palich always had a deep interest in sports of all kinds.
As a reporter he covered sports activities in Summit and Portage Counties, including The University of Akron and Kent State. Andy had a reputation as "a guy coaches and athletes liked to confide in."
Palich died on December 4, 1964 from injuries suffered in a traffic accident on October 29. Ironically, the 49-year old Palich was to have attended the SCSHOF banquet the day of the crash, which ultimately took his life.
The Andy Palich Memorial Award is a fitting tribute to a man who devoted his life and career to writing about Akron area sports.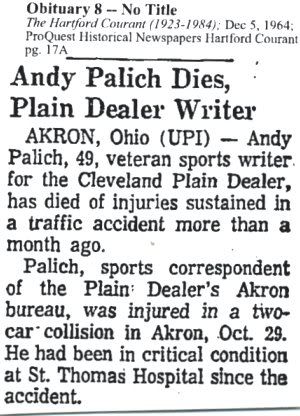 Hartford Courant obituary, December 5, 1964, pp. 17A.-----------Oakwood Cemetery, Cuyahoga Falls, OH.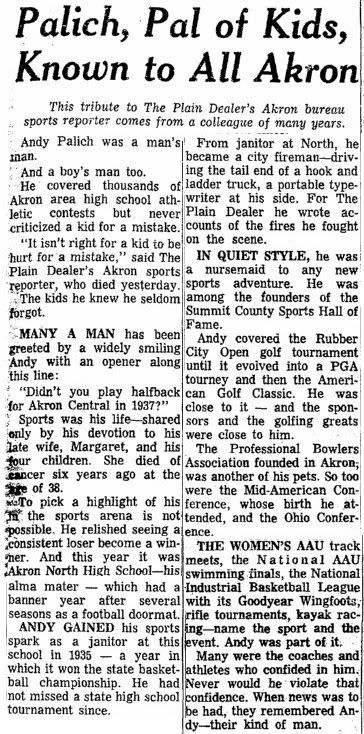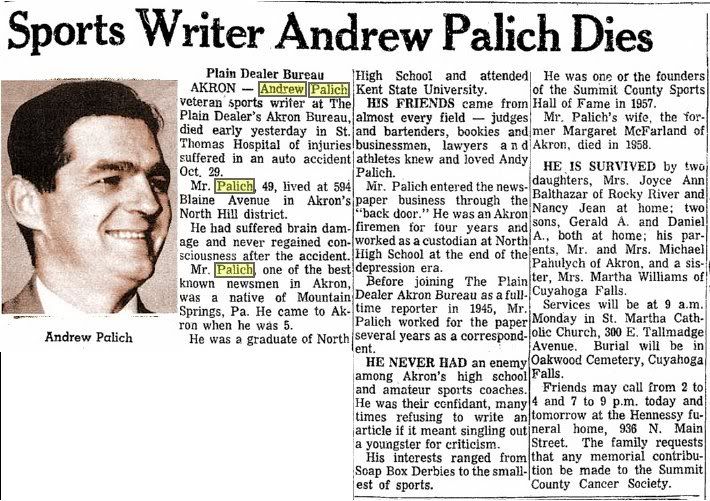 Cleveland Plain Dealer obituary, December 5, 1964, pp. 15.