Albert R. Rainovic---AKA Al Rainovic
Born: October 27, 1922, West Allis, Wisconsin
Died: January 5, 1992, Milwaukee, WI, age 69,---d. natural causes
Milwaukee sports writer / sports cartoonist;
WWII, 1943
Attended American Academy of Art (Chicago, IL),
Attended University of Wisconsin (Milwaukee, WI), (degree in Sociology)
Milwaukee Journal, sports cartoonist, 1952 - 1969
University of Wisconsin (Milwaukee, WI), sports information director
Publisher of the Midwest Diamond Report print publication.
Al Rainovic was a famed sports artist in the "Milwaukee Journal" for nearly 20 years. In the 1950's and 1960's, readers of the Milwaukee paper would turn to the sports page every day to see what Rainovic would come up with next.
Perhaps you remember Rainovic, but then again, probably not. Details of a person's life seem to fade away over a period of time. Rainovic was a sports cartoonist for the Milwaukee Journal from 1952 to 1969. That was during an era, from the '30s through the '60s, when major newspapers all over America utilized that form of art on their sport pages. Rainovic was one of the best in the country, most assuredly the best ever for any Wisconsin newspaper.
George Pollard, the Kenosha artist who did all that artwork for the Braves and Brewers, was an exceptional talent of national acclaim, but he was a portrait artist, not a cartoonist. It's a different art form.
Frank Marasco, the Milwaukee Sentinel sports cartoonist, was also fairly well known in this area, but he was nowhere near Rainovic in talent or in production. Al's artistic creations appeared in the Journal sport pages an average of four times each week. Multiply that by 52 weeks out of the year and times 18 years and you'll get roughly 3,600 sports cartoons, each unique, all entertaining and informative, like the few reproduced on these pages.
As I reviewed Rainovic's caricatures of Crandall, a couple of things came to mind. First, that the form of journalism and art of sports cartooning, like Margaret Mitchell's Old South, is "Gone with the Wind." Today, it is considered too time consuming to create such artwork, and correspondingly, too expensive. Editors also say it's old fashioned. I don't particularly agree with that. Secondly, poor Rainovic, who died in 1992, has been all but forgotten by his fans, his friends and the people he worked for.
When Rainovic died on January 5, 1992, there was unbelievably nothing about his death in any local print or electronic media. He worked for the Journal for most of two decades, and during that time his features were among the most viewed in the paper, as good as any in the country. Yet the paper did not print any kind of story or obituary. It was difficult to understand. And since there was no family, there was no death notice, either.
The reason why Rainovic left the Journal is also obscured by the mists of time. He was still fairly young, only 47. His works were popular with the readers; he was hard working and dependable, well liked, so it's difficult to think that he was let go for cause. One guess is that since the art form of sports cartooning was dying out in newspapers everywhere, the Journal's powers-that-be determined they no longer had any need for Rainovic's talents (What's the phrase about it being a cruel world?).
In any case, after Rainovic left the paper, he worked as a freelance artist. His drawings appeared in many local publications and magazines, and in sports books such as on the cover of the Milwaukee Brewers Media Guide. He also started and operated his own little baseball magazine, which he called The Diamond Report. It was a fine, newsy publication, yet if you didn't know the background, you'd never know Rainovic had anything to do with it. He wrote all the articles, yet did not put his byline on any of them. On all of his drawings in it, his signature was too small to be read without a magnifying glass. He didn't even have his name on the masthead as publisher, editor or whatever. He put the magazine out six times a year, and as I recall, charged only about $5 for a subscription. I think the expense of printing and the postage cost him more than he made from the subscriptions, and there was no advertising.
I met Rainovic for the first time in 1971, after he had left the Journal and was employed as the sports information director for the University of Wisconsin - Milwaukee. Al worked for Athletic Director Tom Rosandich, and one of his main duties was putting out the Athletic Department's newspaper. I had known Tom and his wife, Sally, for many years. Sally was from my hometown, Hurley, and Tom had originated the Paavo Nurmi Marathon up there. He later started and operated the U.S. Sports Academy in Mobile, Alabama.
One day Tom asked if I'd like to help edit their paper, as Al was getting swamped with handling it among all his other duties. I told Tom that I'd like to talk to Al about it first, to get his thoughts on the matter. I did, and Al couldn't have been more receptive and nice about it. We became not only work associates, but also very close friends.
Al loved to golf, and we enjoyed many a round together. He particularly liked Greenfield Park, probably because it was short and suited to his game, and also because it was close to where he lived in West Allis.
We'd also often go to Brewers games together. One day he called and asked if I'd like to go to a game with him and a friend of his. When I met them at Ray Jackson's prior to going to County Stadium, I was surprised as to the identity of his pal. It was Ken Keltner, the old Cleveland Indians third baseman and the man attributed with stopping Joe DiMaggio's 56-game hitting streak.
Keltner and Rainovic were quite alike, both soft spoken, both very unobtrusive and modest. I went to several games with the two of them, and not once did I see anyone who recognized them or asked for an autograph.
The person Al admired above all in his profession was Willard Mullin, the famed New York World Telegram sports artist. Mullin was the most famous sports cartoonist in America. His caricatures were almost always featured on the cover of Sporting News. He was responsible for creating the image of the Brooklyn Bum, as well as that big chested New York Yankee Pinstriper and the St. Louis Cardinal Swifty. If you saw a Mullin drawing and one of Rainovic's side by side, you'd note the resemblance in style.
One day, I think it was in the early '70s, Al invited me to drive down to Chicago and meet Mullin, who was visiting there. I couldn't make it, and I've always regretted it. Mullin died a few years later.
Al spent very little on himself. Whatever he made from his job with the Journal, and later from UW-M, he used to take care of his mother and father (Mary, who died in 1988, and Thomas, who died in 1979).
I often witnessed this exceptional concern he had for others, even small animals and birds. One afternoon we were playing golf at Rivermoor GC near Waterford, Al sliced his drive into a wooded area. We both walked into the wooded area to find his ball. After a few minutes, Al spotted a baby bird chirping away on the ground, which we assumed had fallen from its nest or had been abandoned. Al spent some time looking for the nest, with the tiny creature in his hands, but found nothing. So Al decided to stop to find some way to help the bird. I quit, too, and the two of us went back to my car and drove into town, looking for a vet. We found one who promised to care for it until it was able to fly away on its own.
Even though he paid all the bills for himself and his parents, food, utilities, taxes, everything, and did all the work around the place, he kept the telephone number of the home in his father's name. Prior to 1952, it was listed as "Rainovich," not "Rainovic." I don't know if this was a typo error by Ma Bell, or whether the family changed the name.
On the occasions I visited him, I was always amused at the chaos. Rooms were filled to the ceiling with boxes of books, magazines and old newspapers. He had every edition of Sport Magazine, the Baseball Digest and Sports Illustrated. Many of the materials dated back to the 1800s. I asked him why he had so much clutter in his house. He said where else was he to keep everything? He took me out to the garage, where there was no room for his car. It, too, was filled eight feet high with boxes of books and junk.
Because there were then and even today are hardly any records about the family or Al's youth, I know little of where he went to elementary or high school, how he got started as an artist or anything about his service years. I do know he attended the American Academy of Art in Chicago, went to UW-M where he earned a degree in Sociology, had a brother who had been killed in the service, and one sister who lived in California. He was also an active member of the Baseball Writers of America, Milwaukee Chapter.
I recently discovered something else that he never mentioned to me. Some of his drawings are now in the National Baseball Hall of Fame in Cooperstown. I also learned that Al had won a number of awards and commendations for his work. Often today, when I see and hear these cockamamie sports stars bragging about how wonderful they are, I think of modest Al, so opposite.
Thus far, I've told you a bit about Al Rainovic the man. How can I not comment on his wonderful accomplishments as well? As the words "cartoon art" implies, his work combined the popularity of comic book art (also in its heyday then) with the zany world of sports. His drawings were original, lighthearted and informative, yet full of power, with a life of their own. They lit up a newspaper page in a way that an ordinary photograph could not do.
Sometimes his drawings were of a single person; other times they could encompass several figures, in every pose imaginable. He blended the skills of an artist with the commentary of a columnist. Because of their visual impact, people would cut out his works and tape them on the refrigerator or on a wall, something they would never do with an ordinary story or column. Although his favorite was baseball, his works covered many sports, football, basketball, boxing, track and field, horse racing and many more.
He even actually made images out of words, taking hundreds of them, and by bending the letters, making some heavier than others, and all with a marvelous ingenuity, used them to form pictures. My favorite is one he made at Christmas, 1958. It's a huge Christmas card that filled the top half of the page. The entire picture, all the images, is made up of words, hundreds and hundreds of them. He was, of course, fortunate to be working in an era of so many great sports figures, including such Wisconsin icons as Warren Spahn, Hank Aaron, Vince Lombardi, on and on, for him to draw.
During the summer of 1991, Al started having heart problems. It got so bad that he was hospitalized for a time at the Veteran's Hospital in Wood. I visited him several times, the last one of which he told me they were sending him home. I assumed he was getting better. This was not so.
I still remember the night he died. It was in January, and as always in Wisconsin, it was freezing outside. My wife and I had gone to bed around 11 p.m. Later, the phone rang shocking me awake at about 2 in the morning. The caller identified himself as a police officer from the city of West Allis. This doubly shocked me. Getting a call from the police in the middle of the night would frighten anyone, and in this case, we had a daughter living in West Allis, which made it worse. He then said he was at the home of Al Rainovic, and he was dead, apparently of natural causes, and that there was a note on the table next to the bed saying that if he died, that I should be notified. It also said that all of his possessions, except the home, which had been willed to the hospital, were to go to me.
I got up and went over there. I thought about the sister out in California who hadn't been mentioned in Al's note. I appreciated the fact that Al thought enough of me to will me all of his belongings, but I felt morally that his sister had the right to them. So I called her. Apparently, they were somewhat estranged. She said she didn't want anything to be sent to her, but asked me to sell everything and send a check instead.
And although my wife and I sold all his thousands and thousands of sport books, magazines and materials, I did not sell his original drawings. Instead, I tried to find a home for them.
I first tried the West Allis Library, and they declined, and then tried the Milwaukee Public Library, and they, too said they had no use for them. I eventually tried the UW-Milwaukee Library, and they accepted them. They are there now, in the Library's archives, and are available for public viewing.
They are the sole legacy of a very talented, kind and gentle man.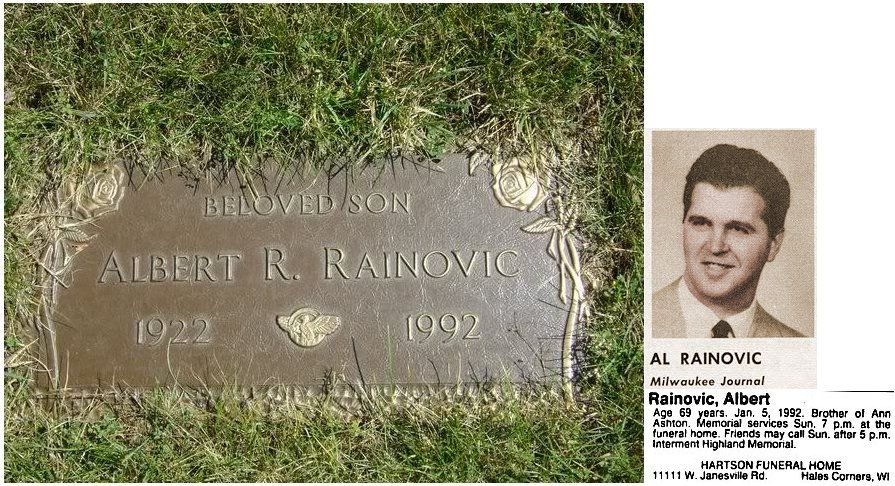 ------------------------
Highland Memorial Park Cemetery, New Berlin, Wisconsin.--------------------------------------------------------------------------------------
1947 Milwaukee State Teachers College yearbook.