George William Daley
Born: September 14, 1875, Rensselaer, NY
Died: August 12, 1952, Rensselaer, NY, age 76,---d. at his sister's home, after a long illness.
New York sports writer / editor;
Graduated Union College (Schenectady, NY),
The Staten Islander,
New York Sun, proofreader, 1897
New York Herald, editor, (1900 and 1910 census), reporter, city editor, managing editor, ? - 1912
New York World, editor, 1912 - 1931 (September 12, 1918, WWI Civilian Draft Registration) He took up baseball writing shortly before WWI.
New York World, editor, 1920 (1920 census)
New York Times, copy editor of sports dept., October 30, 1931 - 1952
He resided at West Brighton, Staten Island for over 50 years.
Wife: Marion Rhine, born Michigan, 1875; Daughter: Alice F., born NY, 1896; Daughter: Helen A., born NY, 1898; Daughter: Marion M., born NY, 1901. Both parents born New York state.
Bowling was his lifelong hobby.
New York Times' obituary, August 13, 1952, pp. 21.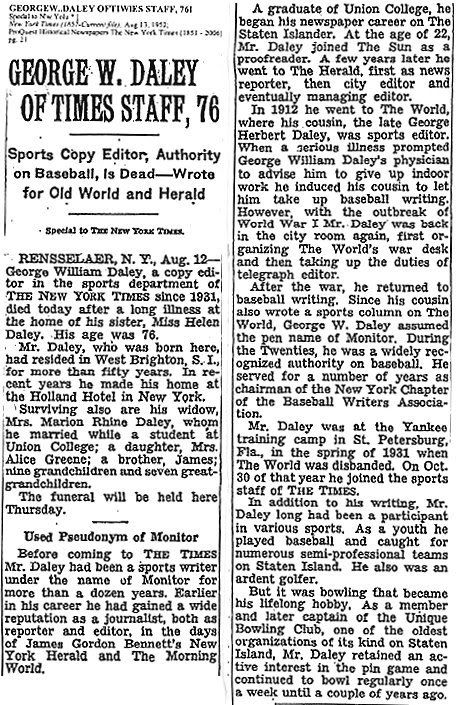 ----------------------------------------------------------------Who Was Who in Journalism, 1925, pp. 70.

1923 World Series scorers: L-R:
Frank O'Neil, George W. Daley, Fred Lieb