Edward Vincent Sullivan

---AKA Ed Sullivan

Born: March 19, 1901, New York City

Died: October 13, 1973, Westbury, NY, age 72---d. at New York's Lenox Hill Hospital of esophageal cancer.

New York sports writer / TV variety show host

Wrote baseball for 12 years before he was given his own TV show.

New York Mail,

New York World,

New York Morning Telegraph,

New York Daily News, (column "Little Old New York", which he continued until his death.)

Hosted his own TV variety show, The Ed Sullivan Show, June 20, 1948 - June 6, 1971

From Wikipedia, the free encyclopedia

Edward Vincent "Ed" Sullivan (September 28, 1901 – October 13, 1974) was an American entertainment writer and television host, best known as the presenter of a popular TV variety show called The Ed Sullivan Show that was popular in the 1950s and 1960s. Ed gained TV immortality for his long-running Sunday night TV variety show, "The Ed Sullivan Show", June 20, 1948 - June 6, 1971.

A former boxer, Sullivan began his media work as a newspaper sportswriter. When Walter Winchell, one of the original gossip columnists and the most powerful entertainment reporter of his day, left the newspaper for the Hearst syndicate, Sullivan took over as theater columnist for The New York Graphic and later for The New York Daily News. His column concentrated on Broadway shows and gossip, as Winchell's had and, like Winchell, he also did show business news broadcasts on radio. Sullivan soon became a powerful star-maker in the entertainment world himself, becoming one of Winchell's main rivals, setting the El Morocco nightclub in New York as his unofficial headquarters against Winchell's seat of power at the nearby Stork Club. Sullivan continued writing for The News throughout his broadcasting career and his popularity long outlived that of Winchell.

In 1948, the CBS network hired Sullivan to do a weekly Sunday night TV variety show, Toast of the Town, which later became The Ed Sullivan Show. Debuting in June 1948, the show was broadcast from CBS Studio 50, at 1697 Broadway (at 53rd Street) in New York City, which in 1967 was renamed the Ed Sullivan Theater (and is now the home of The Late Show with David Letterman).

Somehow, Sullivan still seemed to fit the show; he appeared to the audience as an average guy who brought the great acts of show business to their home televisions. ("He will last," comedian and frequent guest Alan King was quoted as saying, "as long as someone else has talent.") He had a newspaperman's instinct for what the public wanted, and programmed his variety hours with remarkable balance. There was something for everyone. A typical show would feature a vaudeville act (acrobats, jugglers, magicians, etc.), one or two popular comedians, a singing star, a hot jukebox favorite, a figure from the legitimate theater, and for the kids, a visit with puppet "Topo Gigio, the little Italian mouse." The bill was often international in scope, with many European performers augmenting the American artists.

Sullivan had a healthy sense of humor about himself and permitted—even encouraged—impersonators such as John Byner, Frank Gorshin, Rich Little and especially Will Jordan to imitate him on his show. Johnny Carson also did a fair impression, and even Joan Rivers imitated Sullivan's unique posture. The impressionists exaggerated his stiffness, raised shoulders, and nasal tenor phrasing, along with some of his commonly used introductions, such as "And now, right here on our stage..." and "For all you youngsters out there..." and "...a really big shoe..." Will Jordan portrayed Sullivan in the films I Wanna Hold Your Hand, The Buddy Holly Story, The Doors, Mr. Saturday Night, Down With Love, and in the 1979 TV movie Elvis.

In the 1950s and 1960s, Sullivan was a respected star-maker because of the number of performers that became household names after appearing on the show. He had a knack for identifying and promoting top talent and paid a great deal of money to secure that talent for his show.

Sullivan appreciated African American talent. He paid for the funeral of dancer Bill 'Bojangles' Robinson out of his own pocket. He also defied pressure to exclude African American musicians from appearing on his show.

Unlike many shows of the time, Sullivan asked that most musical acts perform their music live, rather than lip-synching to their recordings. Examination of performances show that exceptions were made.

In August 1956, Sullivan was injured in an automobile accident that occurred near his country home in Southbury, Connecticut. Sullivan had to take a medical leave from the show and missed the September 8 appearance of Elvis Presley. Earlier Sullivan had said that he would never invite Presley on his program. Charles Laughton wound up introducing Presley on the Sullivan hour. On a later Presley appearance, Sullivan made amends by telling his audience, "This is a real decent, fine boy."

Sullivan's failure to scoop the TV industry with Presley made him determined to get the next big sensation first. In 1964, he achieved that with the first live American appearance of The Beatles, on February 9, 1964, the most-watched program in TV history to that point and still one of the most-watched programs of all time. The Beatles appeared three more times on the Sullivan show in person, and submitted filmed performances later. Sullivan struck up such a rapport with the Beatles that he agreed to introduce them at their momentous Shea Stadium concert on August 15, 1965. The Dave Clark Five, heavily promoted as having a "cleaner" image than the Beatles, made 13 appearances on the Sullivan show, more than any other UK group.

At a time when television had not yet embraced country and western music, Sullivan was adamant about featuring Nashville performers on his program.

By 1971, the show was no longer in television's top 20. New CBS executives, who wanted to attract younger viewers, canceled the show along with virtually all of the network's oldest shows. Sullivan was so upset and angry that he refused to do a final show, although he did return to CBS for several TV specials and a 25th-anniversary show in 1973. One year later, the man known as "Stone Face" died October 13, 1974 of esophageal cancer at age 73 at New York's Lenox Hill Hospital, coincidentally on a Sunday night. His funeral was attended by 3,000 at St. Patrick's Cathedral, New York on a cold, rainy day. Sullivan is interred in a crypt at the Ferncliff Cemetery in Hartsdale, New York.

Sullivan was married to the former Sylvia Weinstein from April 28, 1930, until her death on March 16, 1973. They had one daughter, Betty Sullivan (who married the Sullivan show's producer, Bob Precht). Sullivan was in the habit of calling Sylvia after every program to get her immediate critique.

----------------------

1930------------------------------------------------1960.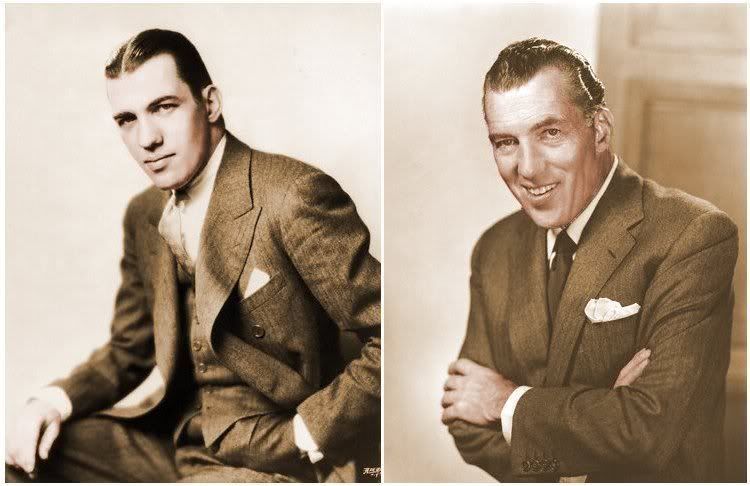 --------------------------------------------1957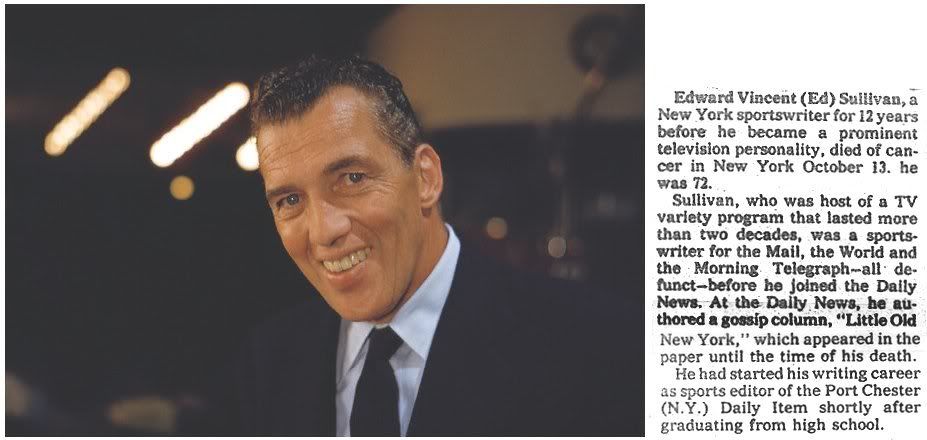 The Beatles, rehearsing day before 1st appearance, February 8, 1964-----------------------------------------February 9, 1964.