Stewart Sargent Bell---AKA Salty Bell
Born: August 15, 1874, Andover, MA (Massachusetts births)(possibly June 23, 1874?)(WWI Civilian Draft Registration form lists his DOB as July 15, 1874.)
Died: July 18, 1947, Wood, WI, age 72---d. heart ailment, Veterans' Hospital; Buried: Wood National Cemetery, Milwaukee, WI
Boston / Chicago / Milwaukee sports writer;
Andover, MA, 6-year, (June 18, 1880 census)
Took part in the Spanish American War, was with landing party, July 26, 1898.
Reading MA, Superintendant, (June 1, 1900 census)
Reading, MA, salesman of electrical supplies, (May 14, 1910 census)
Boston Globe, marine editor
Reading, MA, Electrical Engineer, (worked in Boston, MA)(September 12, 1918, WWI Civilian Draft Registration)
Reading, MA, Traveling Salesman of electrical supplies, (January 14, 1920 census)
DuPage, IL, newspaper sports writer, (April 7, 1930 census)(listed as S. S. Bell)
Milwaukee, WI, no occupation listed, (April 9, 1940 census)
Chicago Daily News, sports writer, 1926 - 1940; was also their Bridge expert, and also their yachting expert.
Milwaukee Journal, yachting reporter, July 20, 1941? - August 5, 1945
Father: Charles H., born 1832-1835?, Goffstown, NH, died June 11, 1897, Andover, MA; Mother: Christina R. (Walker), born Scotland, August 8, 1835, died February 2, 1911, Lawrence MA, arrived in US, 1845; Charles married Christina May 6, 1855 in North Andover, MA; Wife: Lucy Mary Carleton, born Reading, MA, October 14, 1876; Daughter: Lucy Katherine, born Massachusetts, August 23, 1901; Stewart married Lucy October 4, 1900 in Reading, MA. When Charles married Lucy, he was listed as an electrician. Wife 2: Marguerite A. Davern, born August 5, 1895, Illinois, died July 10, 1991; Daugher: Elinor (Patek), born February 1, 1916, Illinois, died December 19, 1991; Daughter: Carol.
Salty was a very great checkers player and was a Checkers champion, 1919 - 1920's. Salty was an authority on Yachting, billiards, bridge, chess and checkers. He had blue eyes, light brown hair, & was 5'8.
Salty enlisted in the US military on May 12, 1898 as a private in the 6th Massachusetts infantry. He was discharged and lived in Boston, MA. He was admitted to a US Veterans' home for disabled soldiers on May 31, 1917 in Dayton, Ohio. His occupation was a salesman. Possibly of electrical supplies. He listed his age with them as 42 years old, at 5'8, dark complexion, gray eyes, dark hair, and was Catholic.
Here is an except from an online article on checkers champion, George M. Tanner.
"In 1919 Tanner beat Stewart S. Bell 4 to 2 and 9 draws, the exact same score that he beat Morton B. Speilman! In 1920 Tanner again beat Stewart S. Bell 3 to 1 and 15 draws. At this time in checker history, Stewart S. Bell was a very famous and a very strong player! As a matter of fact he came in tied for 5th and 6th place in the 6th American Tournament, ahead of Tanner who came in 7th. In the 5th American National Tournament in 1922 he came in 9th place ahead of Harrah B. Reynolds who finished 11th. He lost to Asa Long the eventual winner of this tournament. But he forced Long to 14 games before Long could beat him after 13 hard draws! Not too shabby a showing against the new U.S. Champion! In the playoffs of this tournament he beat H.B. Reynolds (Internationalist) 1-0-3."
Milwaukee Journal, Sunday, March 29, 1942, Section III, pp. 3.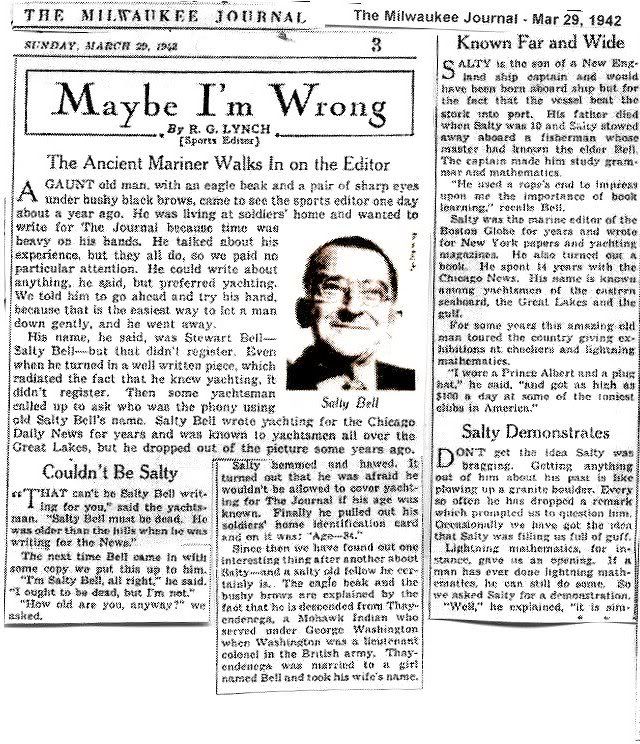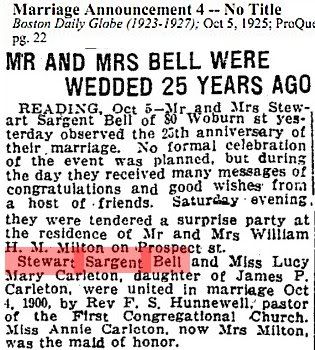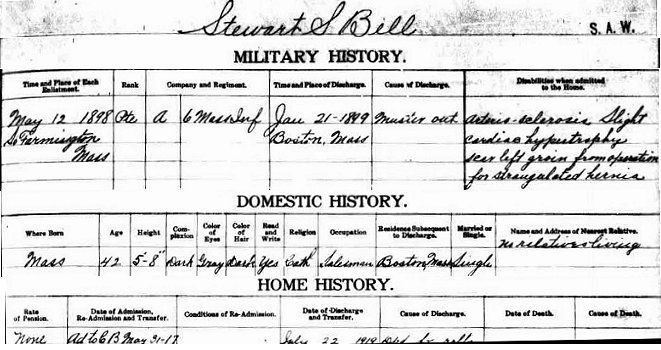 Boston Globe, October 5, 1925, pp. 22.-------------------------Dayton, Ohio, US National Homes for Disabled Volunteer Soldiers, 1866-1938 Form.----------------------------Sporting News' obituary, July 30, 1947, pp. 22.