Licey wins City Champ! Offerman homers twice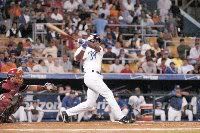 Jose Offerman (picture) homered twice and drove in 3 runs, to lead the tigers to the city championship by beating the lions 6-1 (the city champ is the season series against the tigers and the lions, since they both play in the same stadium for the same city: Santo Domingo. The tigers won the series 6-4).
In Santiago, the eagles got closer to classification, beating the disqualified giants 7-5. Joaquin Benoit got the W and Jose Vargas the save.
In La Romana, the stars got a step closer to classification, by beating the bulls 4-2.
Today's Games
Eagles
@
Tigers
Lions
@
Stars
Bulls
@
Giants
Here are the updated standings:
Team W-L GB WPct Strk Home Away
x-
Licey 29-17 0.0 .630 5W
Eagles 25-19 3.0 .568 1W
Bulls 23-22 5.5 .511 2L
Lions 22-23 6.5 .489 1L
Stars 19-24 8.0 .442 2W
z-
Giants 16-30 13.0 .348 3L
x- Clinched Playoff Berth
z- Disqualified. Cannot make playoffs